Birthday Bash at Hamilton Island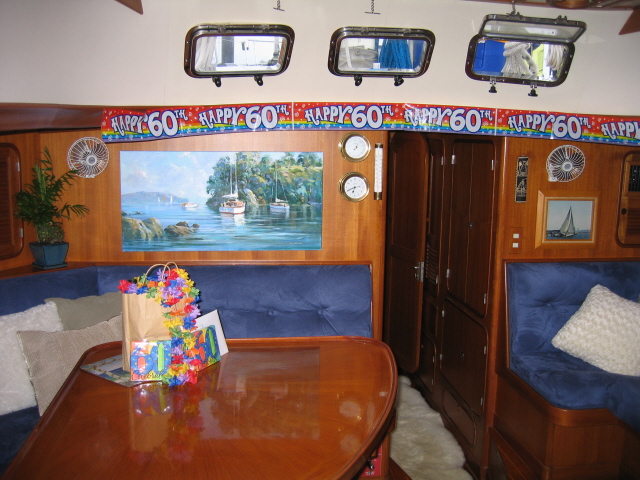 Waking up on the birthday morning
Our friends from Sydney, Norbert & Sharon aboard Swanky invited us to have my birthday party at their winter home at Hamilton Island. We had met Norby & Sharon in 2002 when we crossed the Pacific. They were bringing their new Swan 58, Swanky, home and we invited them to join us at our Puddle Jump parties along the way. They're very gracious hosts and insisted we have the party at their place. It was a tough choice. But, after a few seconds, we said "Yes!" So, we brought our boats into the marina at Hamilton Island and stayed for a few days. The scene above is what Suzy prepared aboard Final Straw the morning I got up to celebrate yet another milestone in the ageing process.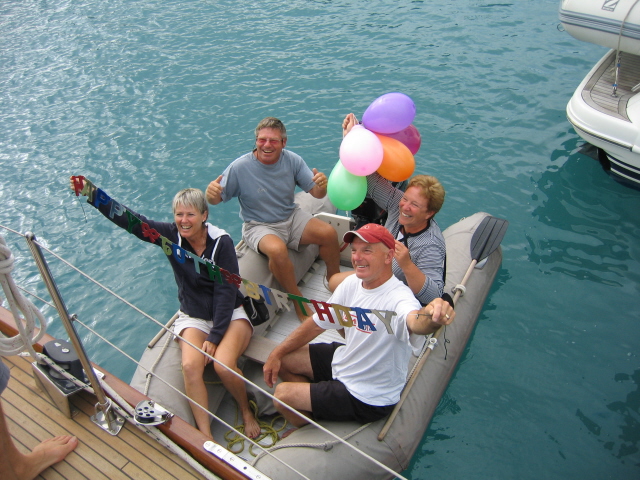 John, Ariana, Bob & Leslie singing Happy Birthday
Next came the Canadian contingent in their dinghy complete with sign & balloons. Even a couple of nearby Aussies chimed in. Next on the agenda was a tennis match followed by sight seeing trips around Hammo (Aussie for Hamilton Island).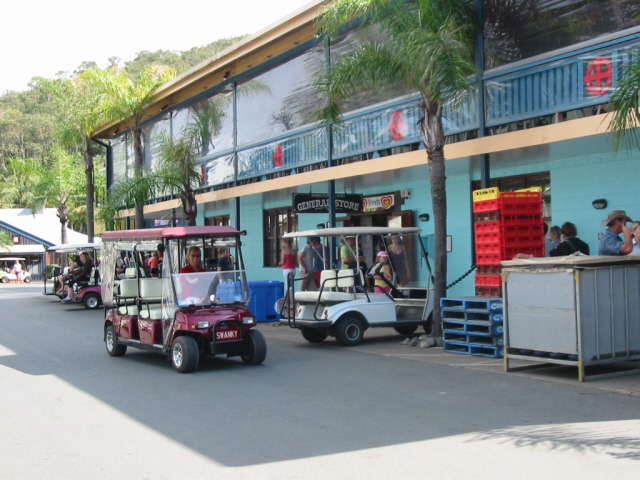 Transportation on Hamilton Island
There are only a few conventional cars, trucks or buses on the island. The major form of automated transportation is the modified golf cart. The picture above is Sharon driving theirs with Swanky license plates. We rented ours so we could see more of the island. This photo was taken in front of the general store. There's also a major runway that handles commercial jet flights from Brisbane, Sydney, Melbourne and Adelaide. The planes almost land on top of the marina. In fact, there are no anchoring signs just around the edge of the runway!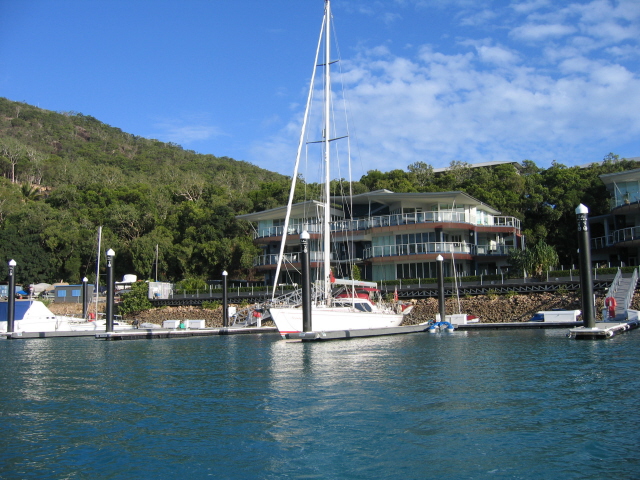 Swanky in front of the condos
Norby & Sharon keep Swanky in a private slip in front of their condo unit. Their unit is on the top floor of one of the three marina buildings. You'd never know the marina was completely full (chock-a-block as they say here) from this picture. The reason is the slips shown here are for the private use of the unit owners and may not be leased out to anyone else.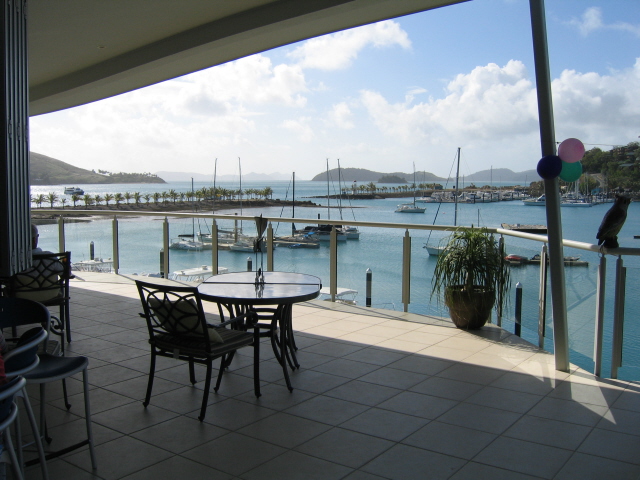 The view from Norby & Sharon's place
This was a great spot for a party. Their place is beautifully furnished and has a lovely view of the marina and the Whitsunday Passage.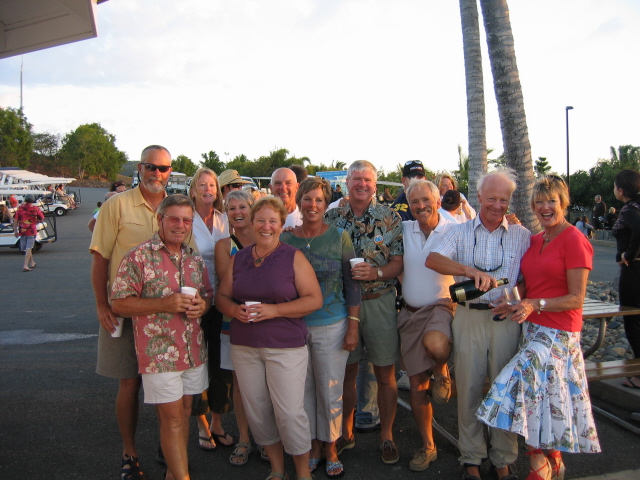 Birthday revelers going to see the sunset
That evening, part of the birthday party contingent rode the carts up to Lone Tree Hill to have a taste of wine and watch the sunset. In the picture above are Dave & Gay from Mobisle of Seattle, John & Ariana from By Chance of Victoria, BC, Canada, Bob & Leslie from Gabriola Island, BC, Canada, Clark & Suzy, Keith from C'est la Vie of Sacramento and Simon & Kathryn from Duet of Holland (and London). It was a pretty international crowd when you include Sharon & Norby from Swanky of Sydney.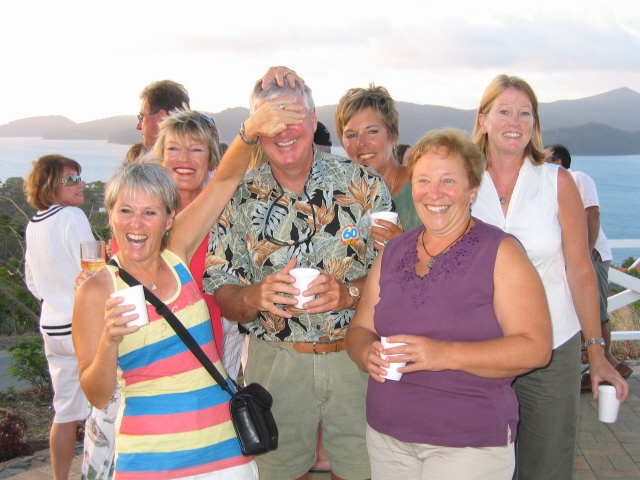 Clark & the girls
As you can see, the fun started early. After the sun had set, we all drove our carts back down the hill to Norby & Sharon's place. They had a pool table and table tennis and we brought food and drinks all to help get the party started.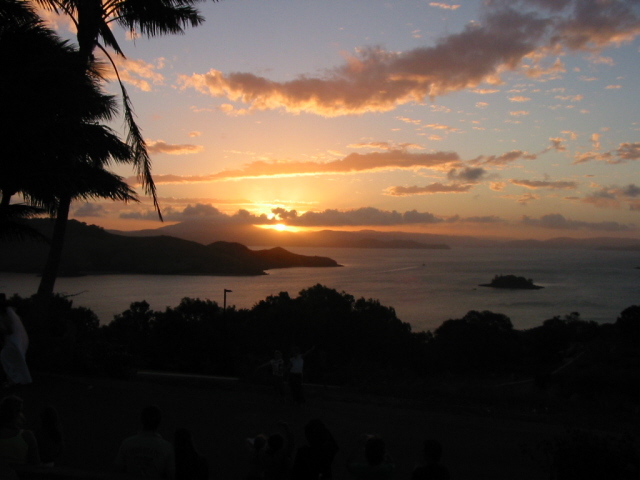 Sunset at Hammo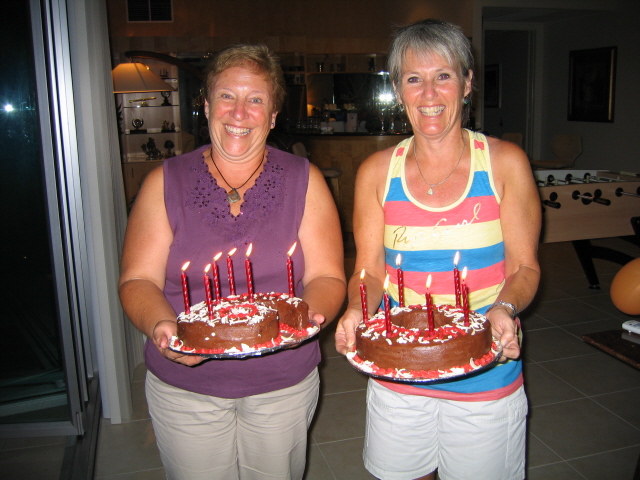 The birthday cake(s)
Ariana and Leslie brought the cake out, a delicious chocolate-chocolate chip cake for true chocolate lovers, whoever that might be! Fortunately, they didn't take the time to put a candle on for each year or the Hamilton Island Volunteer Fire Brigade would have had to been put on standby.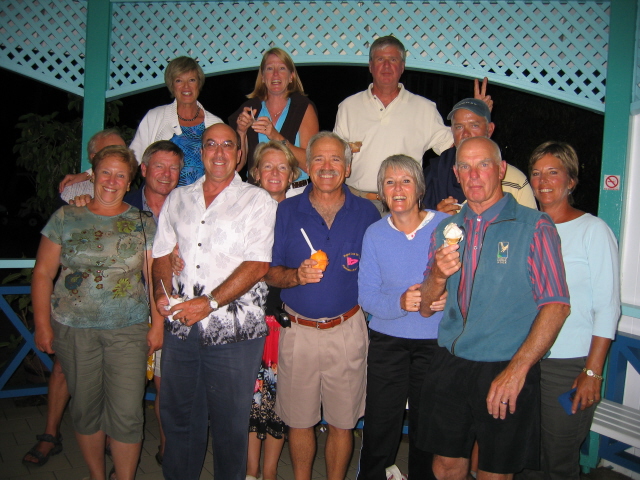 The revelers go for ice cream the following night
The partying continued on the next day and we had a wonderful dinner at a local seafood restaurant. Following that, we went to a near by ice cream parlor for a bit of desert. Norby & Sharon made it into this photo (he's in the white shirt, front row, and she's to his left). It was very kind and gracious of Sharon & Norby to let us use their home and we greatly appreciated their hospitality. It was definitely another memory we won't ever forget.
Please click here to return to the home page.