Shipping Final Straw home from Australia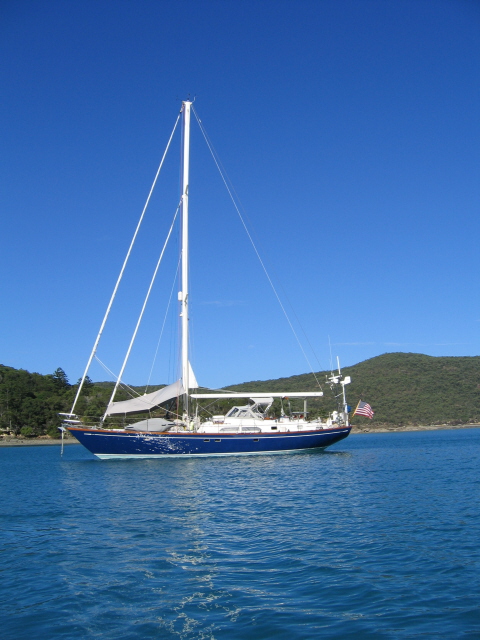 Final Straw anchored at Hook Island, Whitsunday Group, Australia
We first sailed into Australian waters in October 2004. The Aussies allow visiting yachts to stay up to three years before you must either import your boat or leave the country. It is one of the most generous nations in this regard. They give you a reasonable amount of time to see as much of this expansive and beautiful country as you can. But, like everything else, time flies by and, before you know it, its time to leave.
We've decided after six years away from home, its time to come back for awhile. We plan to renovate our home and we'd like to be closer to our grandchildren as they grow up. So, we plan to ship Final Straw back to North America aboard Dockwise Yacht Transport of The Netherlands. They have launched a new ship, Yacht Express, that will compliment their fleet of several vessels. At 685 feet, it's the largest of its kind in the world. The ship has complimentary cabins for yacht crew complete with meal service, a swimming pool, an atrium, a fitness center and a conference and media center. Unfortunately for us, the current Dockwise rule states the yacht must be over 80 feet for crew to have a complimentary cabin. And, we're just a measly 54 feet. It might be a fun trip with a pretty fast ride. She cruises at 18 knots, almost three times our average sailing speed.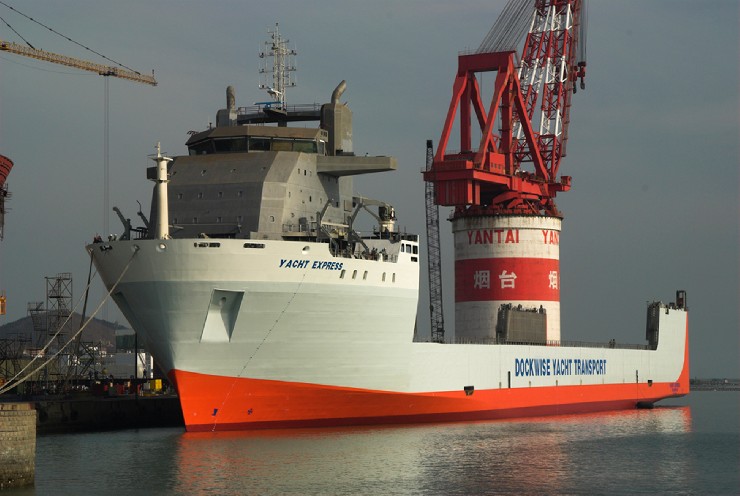 DYT's new ship, Yacht Express
The ship was built in China and launched in January 2007. It's the first one built specifically to carry yachts. The deck drops down and you drive your boat right over the submerged floor. The yacht is then held in place by supports specially fitted to each one's unique dimensions. For sailboats, it avoids the hassle of removing the mast and disassembling the rigging. Almost all other yacht carriers are lift on-lift off arrangements where a crane lifts the yacht on to the deck of the ship. That invariably requires removal of the mast and rig so the crane can maneuver the hoisting strap around the hull. Neither method is an inexpensive way to get home. But, it clearly saves a lot of wear and tear on the boat and crew. The return passage from Australia to North America is a bit more challenging than the sail over as it is mostly to weather and not a nice downwind ride one experiences going from east to west in the tropics.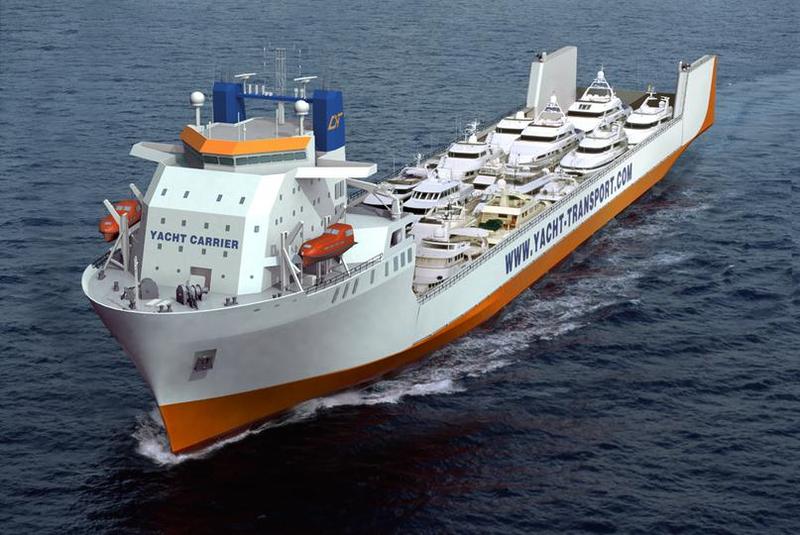 Yacht Express carrying yachts
If you want to see a video clip of how it works, click on the light blue link and then, once there, click on the video clip box.
Our expectations were to have Final Straw home by mid to late August 2007 on the maiden voyage. But, unfortunately, Dockwise had to cancel the July 2007 voyage from Brisbane to Mexico due to a serious steering problem found during sea trials. The next trip sailed from Brisbane on January 29, 2008 and is expected to arrive at Ensenada, Mexico by March 1, 2008. So, we will kept Final Straw at Rivergate Marina on the Brisbane River until then and loaded her for a delayed return.
Dockwise owns several ships. Four are used exclusively to ship private yachts between the world's best cruising grounds. The others are used to ship heavy loads, such as oil rigs and disabled ships, from one place to another. As an example, when the USS Cole was damaged by a terrorist attack in the Yemeni Port of Aden, a Dockwise Ship, Blue Marlin, was used to transport her back to America.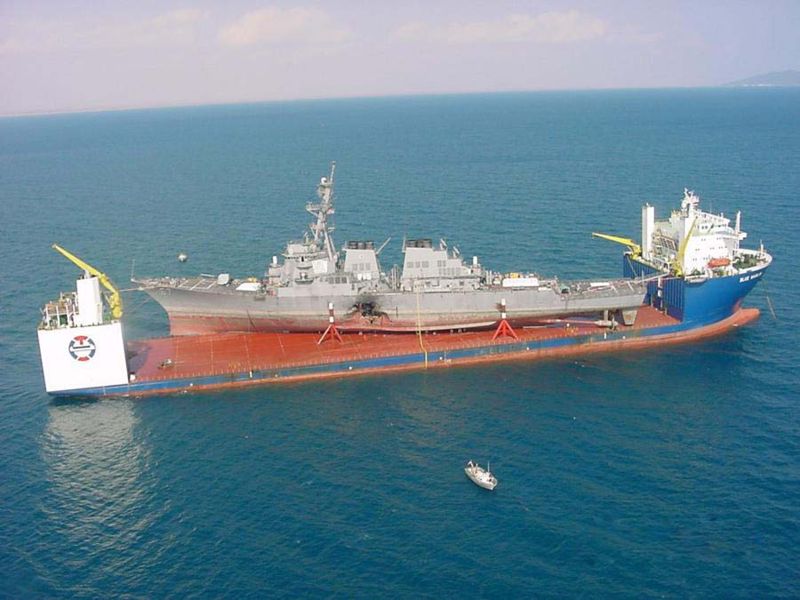 Blue Marlin carrying the USS Cole back to America
(Note the 40 x 40 foot hole midship caused by a terrorist bomb)
To keep things in perspective with regard to the large size of the new Yacht Express, note it's 100 feet longer than the Dockwise ship, Blue Marlin, which carried the USS Cole home!
Hauling large objects around the world isn't without risk. In December 2006, the Dockwise ship, Mighty Servant 3, hauled a large offshore oil rig to Africa and then encountered a problem offloading it. The ship was supposed to semi-submerge so a tug could pull the rig off of the ship. That worked fine and there was no damage to the rig. But, apparently, while the ship was submerged there were issues with the ballast and the ship, itself, began to flood and then sink. It was reported there were 83 people aboard the oil rig and another 21 aboard the ship. Fortunately, no one was injured! A salvage company is working to see if Mighty Servant 3 can be re-floated.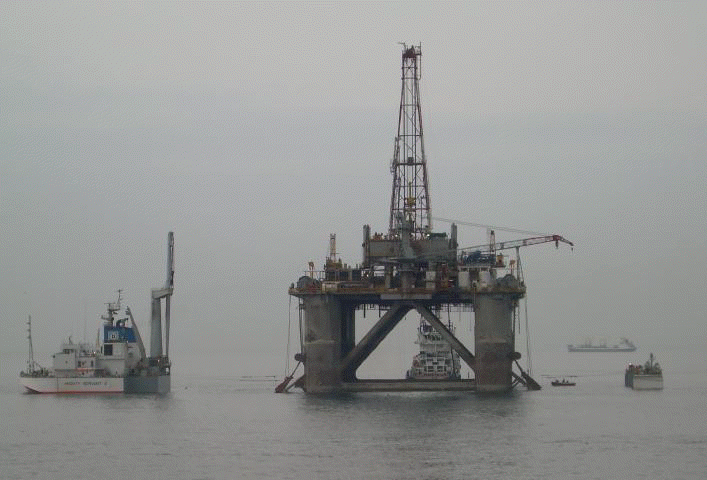 Mighty Servant 3 submerged to offload an oil rig in Angola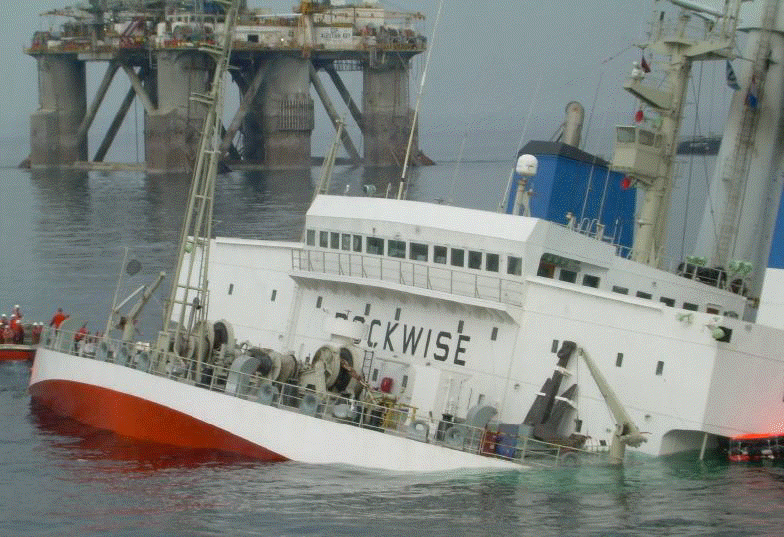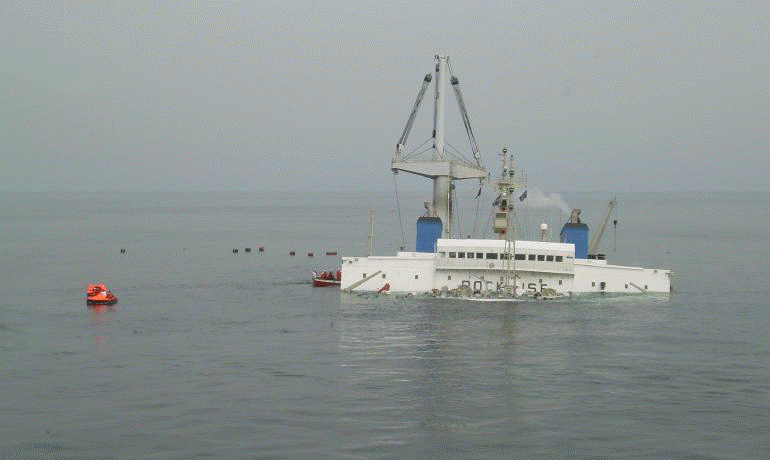 Is it supposed to go that far down???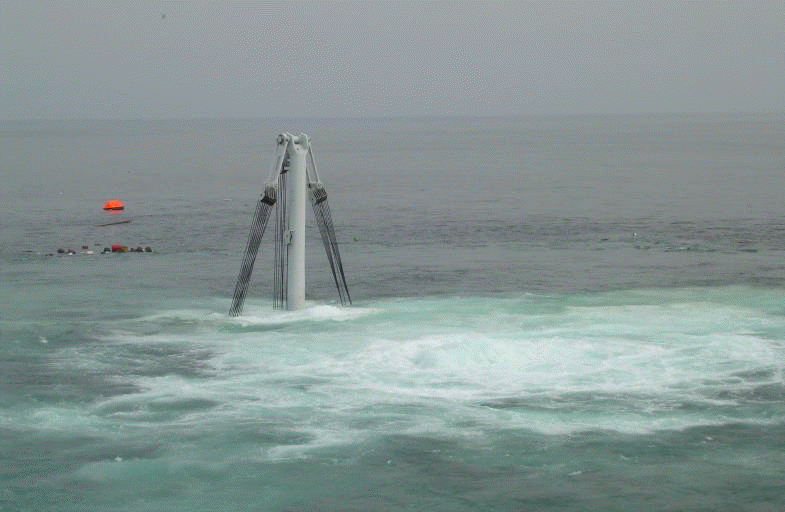 Despite this mishap, we still trust Dockwise will handle our yacht with tender loving care.
On January 29, 2008, Final Straw was loaded aboard Super Servant IV with the help of Don Maidlow, an Aussie skipper, his friend, Mark, and two of our Aussie friends, Paula and Hans from the yacht Babe. We met Hans & Paula during our trip north to the Whitsundays in 2006. It was a rainy day and took several hours to get the boats loaded aboard the ship.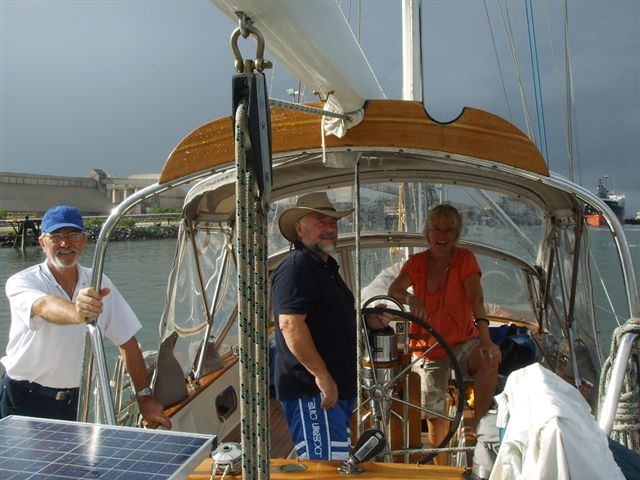 Hans, Don & Paula loading Final Straw in Brisbane
After waiting for over a dozen yachts to load, it was finally Final Straw's turn. The photo below shows her entering the stern of Super Servant IV to be positioned along the port side of the ship in the last spot aft on the far port row.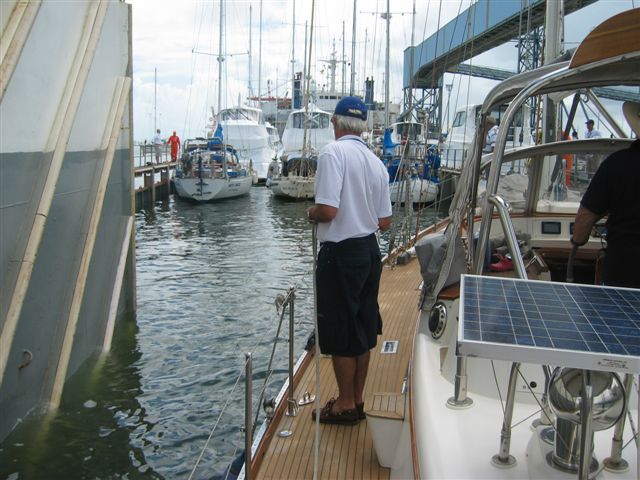 Hans watching the port side as Final Straw is loaded
Don maneuvered her into a tight spot just in front of the port stern stack of the ship. Here, the divers secured the braces that would hold her upright after the seawater was pumped out.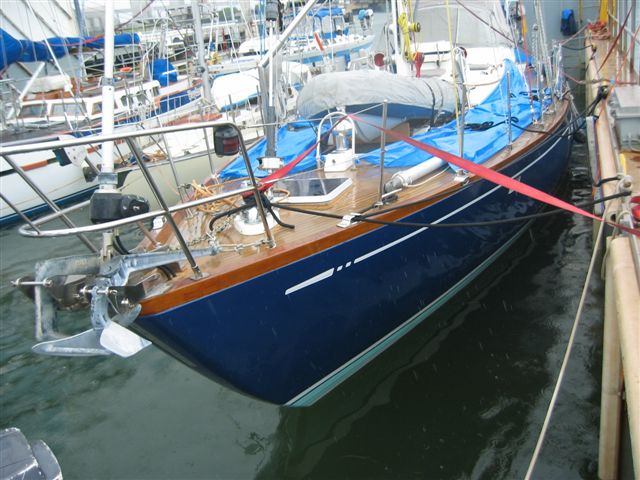 Final Straw up against the port stern of the ship
After loading all the yachts in Brisbane, Super Servant IV set sail for Auckland to unload and load additional yachts. By February 12, 2008, she was ready to go again. Next stop, Ensenada, Mexico, with an ETA of 1 March 2008.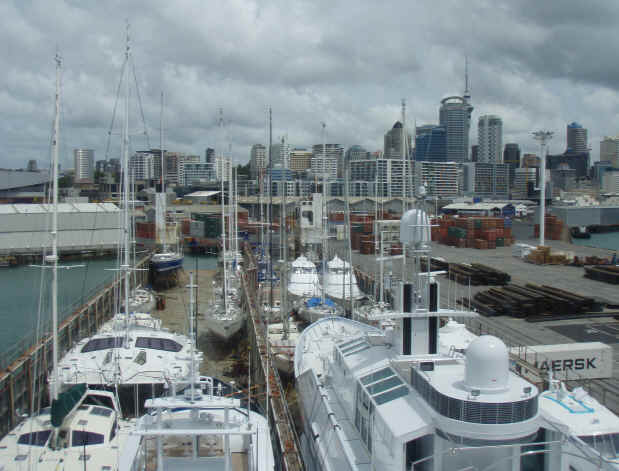 Ready to set sail in Auckland on 12 Feb 2008
Final Straw is located in the far right corner of the ship looking towards the stern. She is barely visible behind the twin Sportfisherman motor yachts. The big motor yacht in the foreground is Lionwind of London, a 155 foot Feadship.
After Final Straw is back in North America, we'll likely keep her in San Diego for a year or so. After that, we're thinking we may go south again to Puerto Vallarta and the Sea of Cortez and then maybe through the Panama Canal to the San Blas Islands and the Caribbean or back to Costa Rica and the Galapagos Islands. From there, we may possibly sail back to the Marquesas, Tuamotus and Society Islands of French Polynesia and then on to Hawaii. Time will tell!
Please click here to return to the home page.