Bay of Islands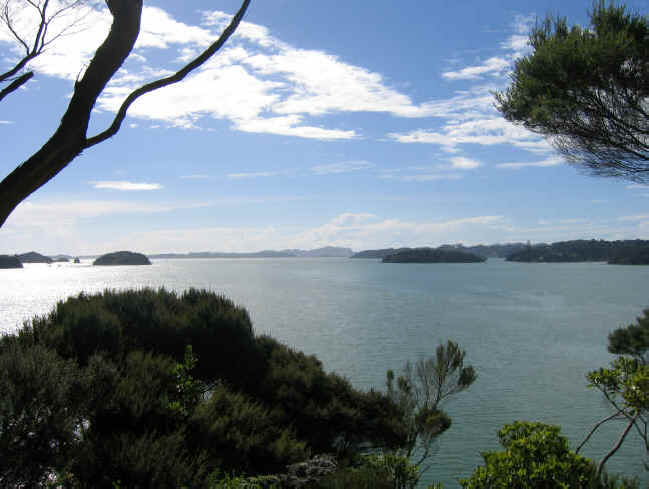 The Bay of Islands
The Bay of Islands is another spectacular spot in New Zealand. It consists of 500 miles of shoreline and 86 islands with numerous secluded and safe anchorages and inlets. Its a historic spot where the native New Zealanders, the Maori's, first settled. They were followed in 1769 by Captain Cook who sailed here on his vessel HMS Endeavour. He gave the area the name that's used today. Whalers and traders from Europe began to arrive and by 1820 the town of Russell was established. As many as 150 ships would be anchored here in its heyday. It was a wild time and the French had their eye on colonizing the country as well. In fact, it was that possibility that led the British to sign the Treaty of Waitangi made between the chiefs of the Maori tribes and the British Crown. The treaty led to proclaiming New Zealand a Crown colony in the 1830's. It is here, in this peaceful spot, where we waited for the "right" weather window to make the eight day crossing to Fiji. It can be a difficult passage with a hgh probability of gales or even storms. Deciding when to set out can be a challenge. Conventional wisdom says to wait for a low pressure system to pass. Then leave as it passes and ride its southerly winds to the north. The following high pressure system will continue to produce southerlies and its possible to be a few hundred miles north before the next low appears. By then, you hope to be far enough above it that it moderates any punch it might have. That's the theory anyway!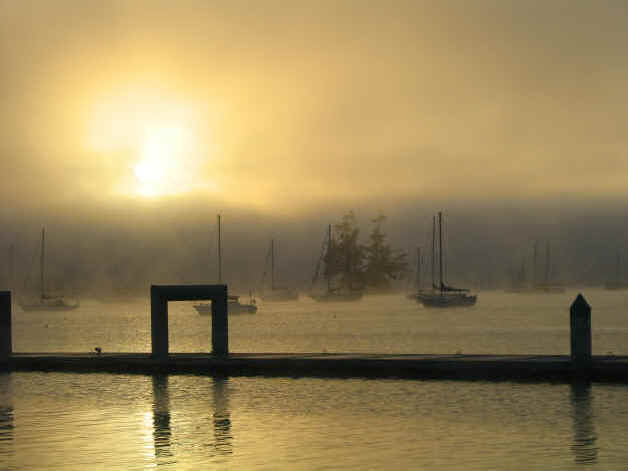 A foggy morning at Opua Marina
We stayed at the Opua Marina with a number of our yachtie friends. Every morning, we would get up early and walk with a small group of dedicated exercisers along the nearby trails. The views were beautiful. Our routine included a daily visit to the internet cafe which was housed in a convenience store near the marina. Here, we could check the different web sites that forecast weather as far out as seven days. I particularly liked the US Navy Meteorology Lab's web site (see the home page for a link to it). It became a daily ritual for a gathering of cruisers to stop by to see what the latest weather window looked like. Everyone was beginning to get a bit antsy to go!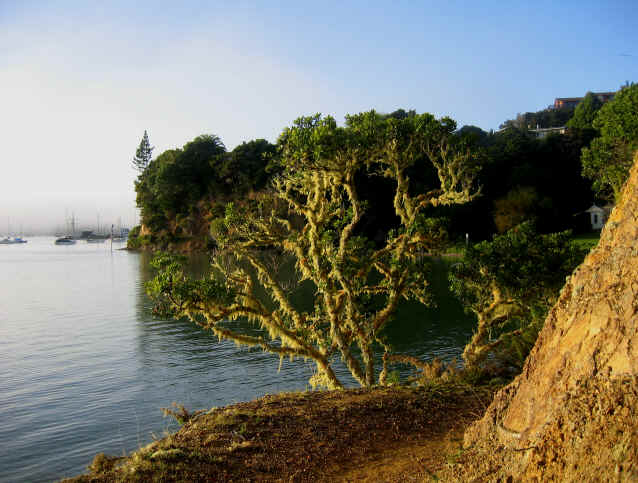 Tree on walking path
This unusual moss covered tree was one of the many beautiful sights along our daily walking path. There were a number of things for us to do while we were in the Opua area. The town of Paihia was not too far away. It's a popular tourist spot with several good restaurants and a large grocery store to provision for the seven to eight day passage. Across the bay is the town of Russell, the historic spot mentioned above. We anchored here for a couple of nights when we first arrived back in the Bay of Islands. Russell also has some good restaurants and interesting spots to visit. The Opua Cruising Club, housed right at the marina, did a wonderful job making us feel at home. They had inexpensive evening dinners and many of the cruisers attended them for the libation and camaraderie.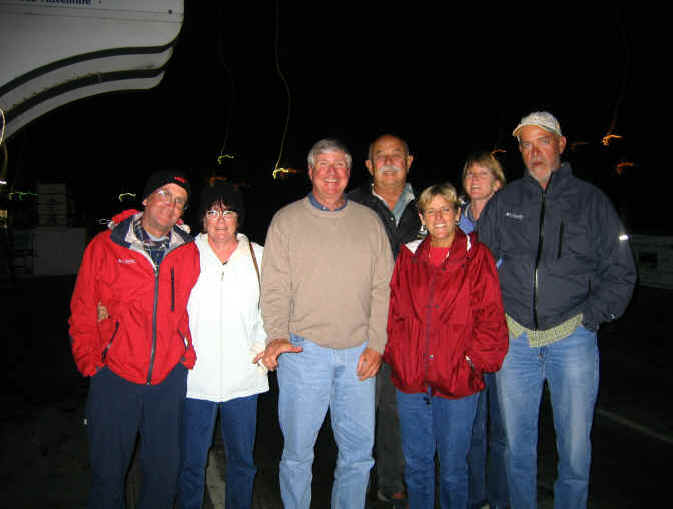 Opua yachties
This motley group consists of, from left to right, Adrian and Paula from L'eau Life, your's truly (Suzy's taking the picture), Paul and Mary from Aventura, and Gay and Dave from Mobisle. We decided to take the Opua car ferry across to the other side where a van from a nearby winery picked us up and brought us to the winery where we had a nice dinner with fine wine. It was a nice excursion with a good panoramic view of the Bay of Islands. Please note, Dave does not like to have his picture taken.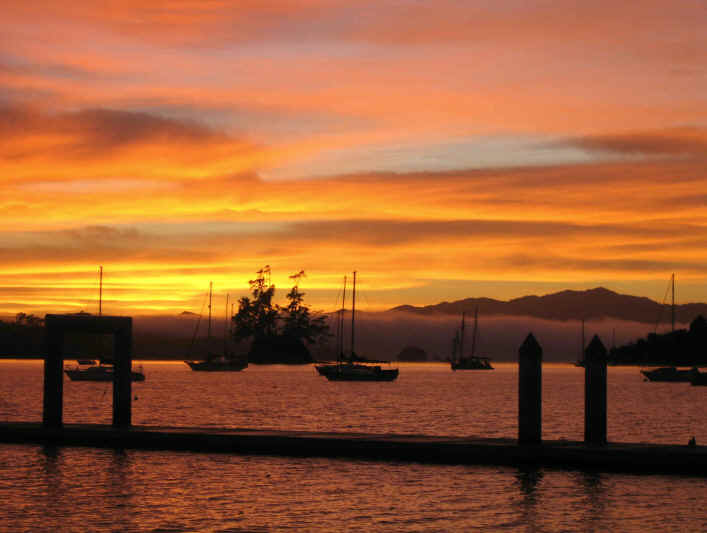 Sunrise at Opua
We only planned to stay in Opua for a week before heading off to Fiji. But, a series of gales crossed the Tasman Sea and delayed our departure. We had no problem filling the time. But, autumn was beginning to appear in New Zealand and everyone was getting anxious to get underway to the tropics. We had made arrangements for our friend Steven Gloor, of the sailing vessel Moonshadow, to join us as crew for the passage. We had met Steven and Jackie in Puerto Vallarta during the Puddle Jump meetings in 2002. But, they decided to spend a year in Central America while we crossed the Pacific. They followed a year later taking the more southerly route from Panama to the Galapagos and then to the Marquesas. Steven was interested in doing this passage as he and Jackie are planning to do it in Moonshadow in 2005 and this would be good experience. We were very glad to have him with us as three crew makes for a much easier watch schedule (three hours on watch and six hours off for each person!). So, on Thursday, May 13th, we called Steven in Tauranga and asked him to come up to Opua. Our plan was to leave for Fiji on Saturday, May 15th. So, after three weeks in the Bay of Islands, we bid adieu to New Zealand. It had been a wonderful 18 month stay in this great country and we will miss it. But, we definitely plan to return!
Click here to proceed on to the Passage to Fiji.
or
Click here to go back to the home page.