The Marquesas Islands
French Polynesia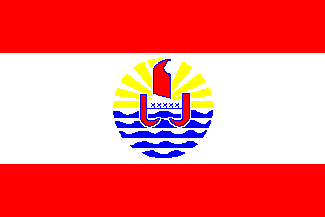 Flag of French Polynesia
April 10, 2002
We arrived in Hiva Oa early this morning after a 16 day, 23 hour crossing from Puerto Vallarta, Mexico. A few of our fellow cruisers had already arrived, so we had a nice welcome at the anchorage in Atuona when we pulled in. Dave and Gay from s/v Mobilse helped us put out a stern anchor. Then, we got settled had a few Hinano beers and a great nightís sleep. It was a nice feeling of accomplishment!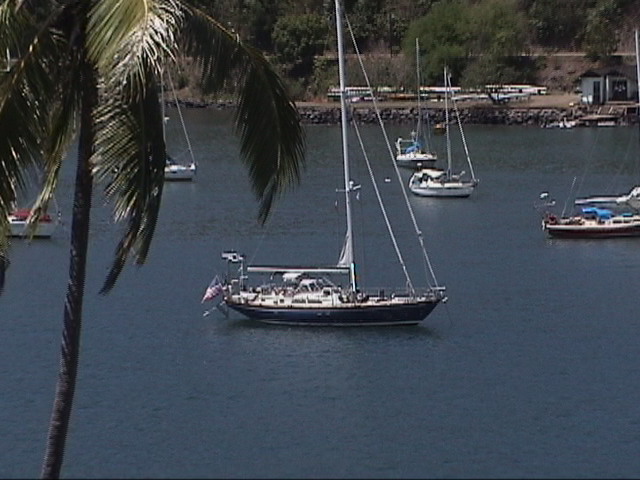 Final Straw at Atuona, Hiva Oa
April 20, 2002
We spent several days touring Hiva Oa, buying provisions, meeting new people and generally enjoyed being on dry land. Suzy arrived from San Diego to join us while John and Terry caught their planes home. Terry was visited by his partner, Michelle, and they stayed at the beautiful nearby Hiva Oa Pearl Resort.
After 12 days in Hiva Oa, we decided to see more of the Marquesas. So, we departed Atuona, a rather rolly harbor, for nearby Tahuata and beautiful, quiet Hanamoenoa Bay. This bay is the quintessential island paradise beach with beautiful white sand and excellent protection from the prevailing seas and wind. We spent four days at Tahuata.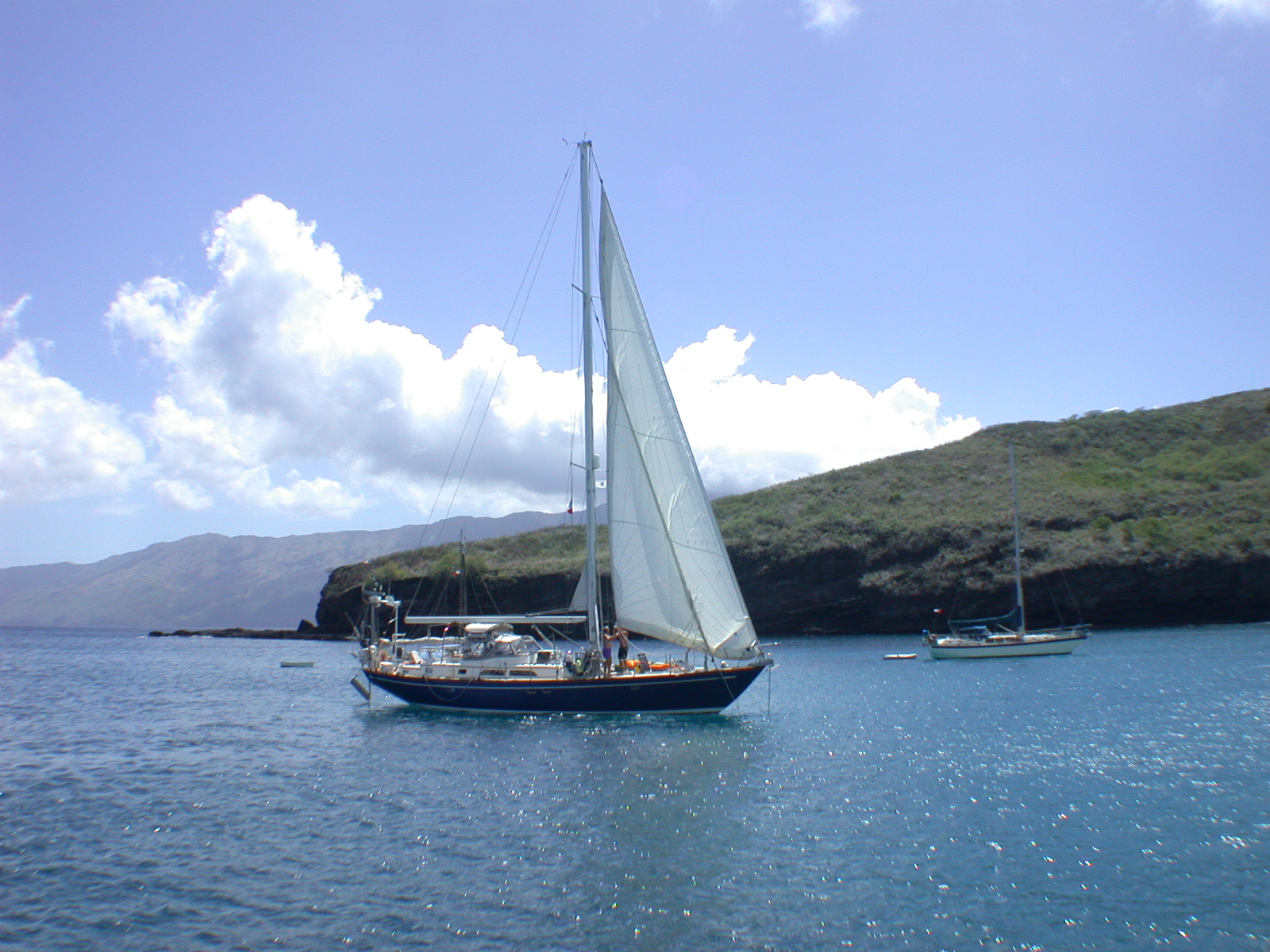 Anchored at Hanamoenoa Bay
April 24, 2002
This evening we saw one of the most beautiful sunsets at Hanamoenoa Bay. We cooked out that night and the stars came out quite brilliant later in the evening. We really felt like we were in paradise now!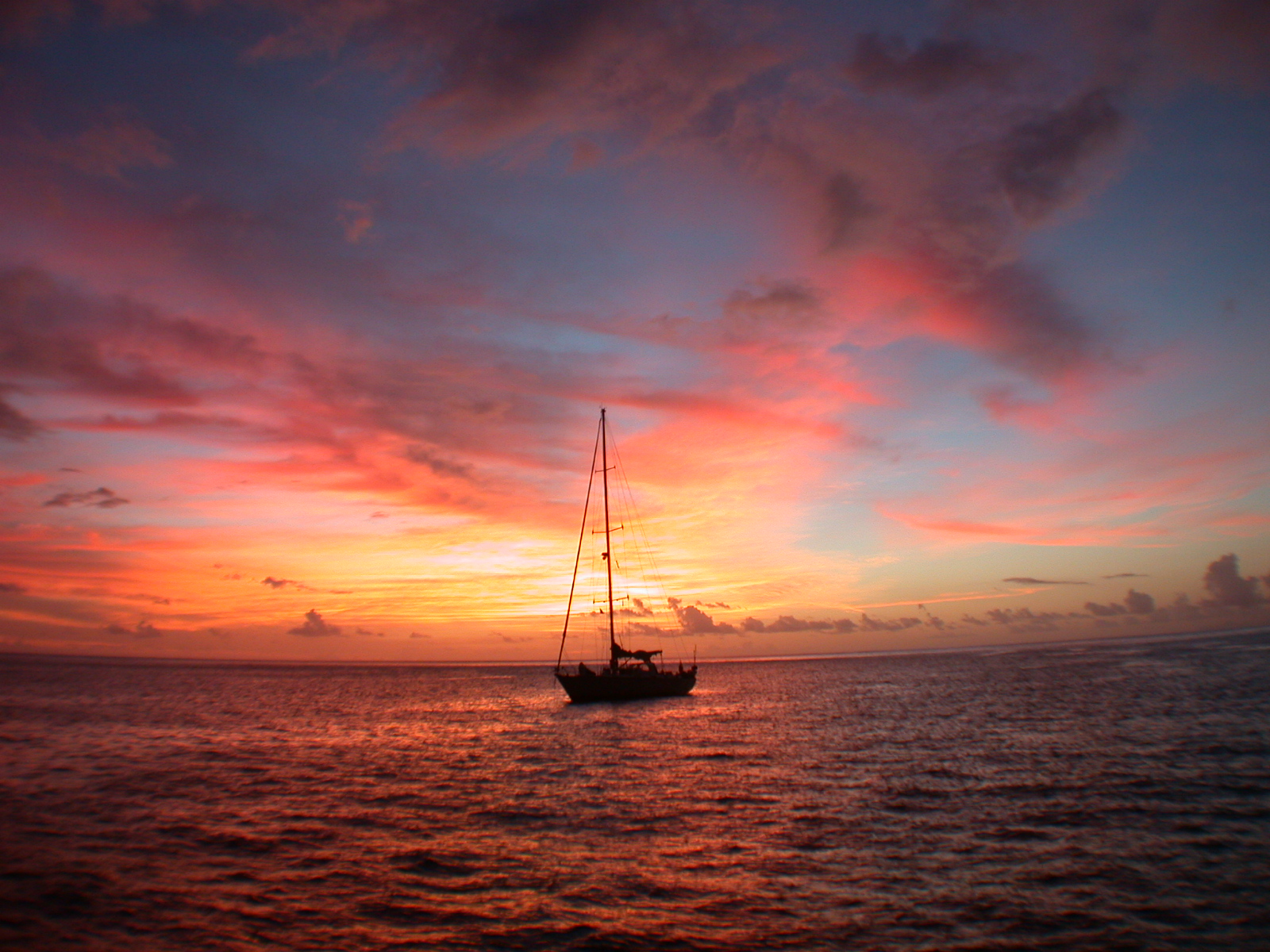 Spectacular Polynesian sunset
April 25, 2002
This morning we departed Tahuata bound for Ua Pou. We had a nice sail overnight and by the next morning we were within 25 miles of the island. The weather had changed and squalls started building behind us. It was going to be a race to see if we could beat them into the harbor entrance. Just as we were rounding the northeast corner of Ua Pou, a big squall line hit us with winds hitting 35 knots and torrential rain. It didnít last long. But, we were too close to the island and when we lost sight of it, we decided to be safe and sail back out to sea. Thirty minutes later we pulled into the harbor and anchored.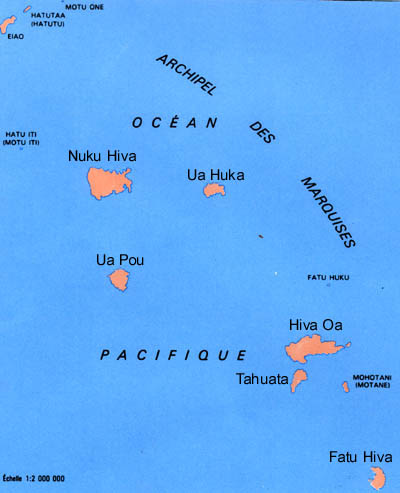 The Marquesas Islands
Ua Pou is a magical place with a dramatic spired entrance. The harbor is small and exposed to waves from the north. But, the people were charming and friendly and we enjoyed the six days we spent at this place.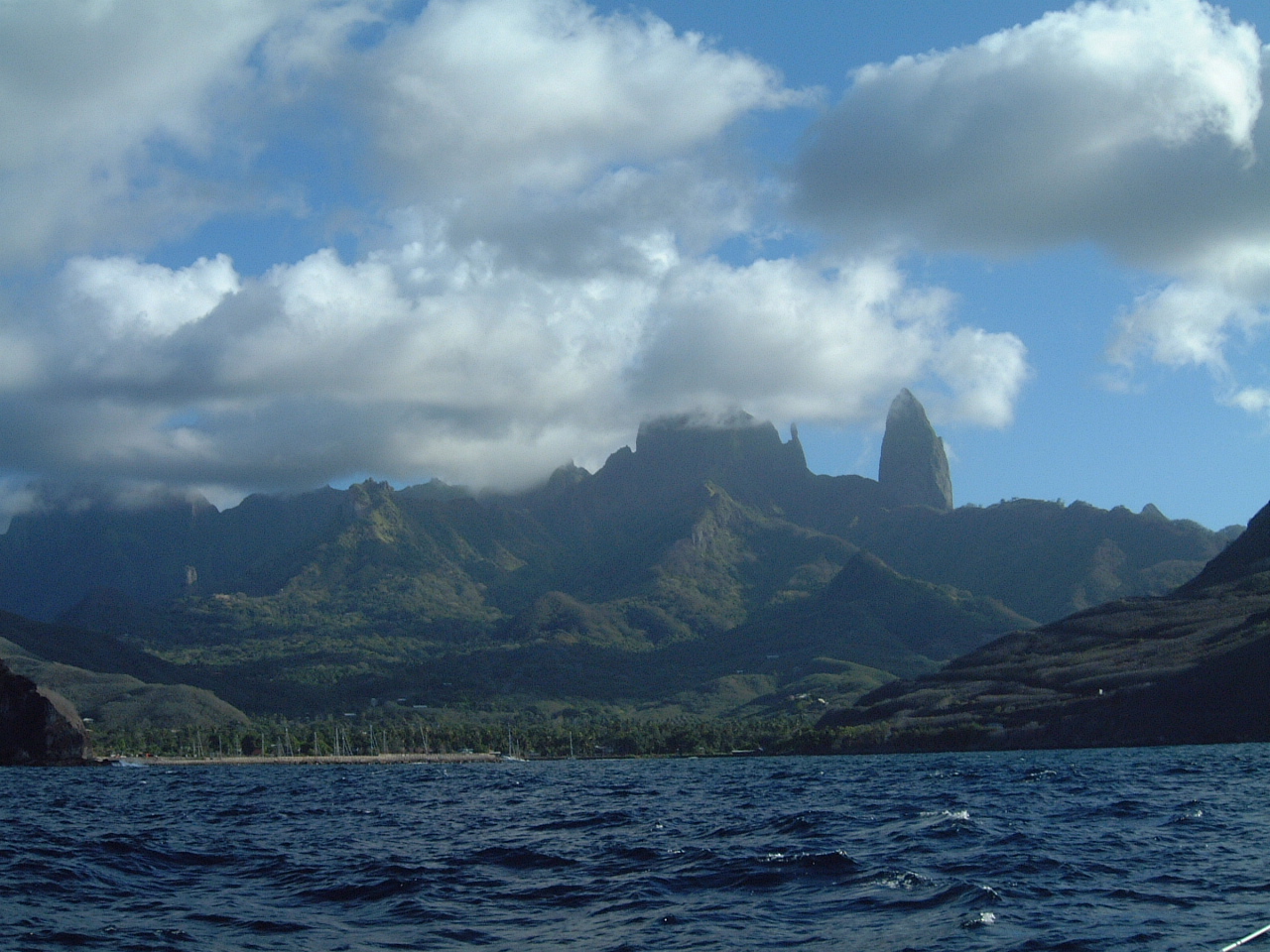 Entrance to Ua Pou
April 28, 2002
One memorable experience we had at Ua Pou was meeting the Tissot family. They invited us to their home in the hills and Mama Tissot showed us her beautiful garden. Papa Tissot and their sons serenaded us with beautiful Polynesian songs. As the evening wore on, I asked Papa Tissot if he had ever heard of the famous Swiss watchmaker also named Tissot. He said, "Sure, that is my ancestor." He went on to explain that his great, great grandfather was from the Swiss Tissot family and had come to Hawaii as a missionary. He married a Marquesan lady and they moved to Nuku Hiva many years ago. The next day, Mama Tissot invited Suzy to see the island of Ua Pou with her.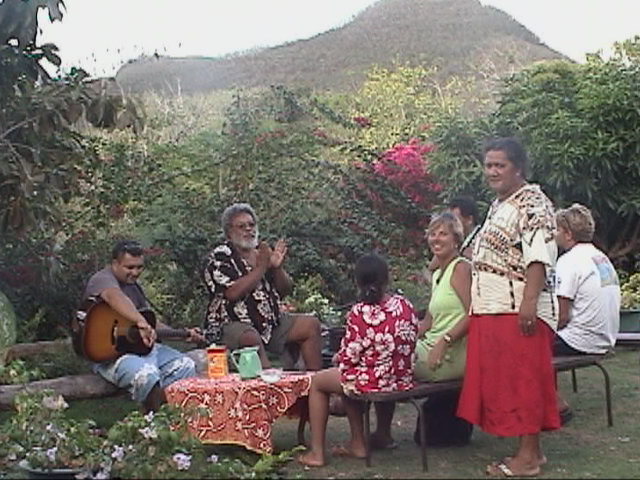 The Tissot Family
April 29, 2002
After their shopping trip, Suzy came back to the boat loaded with gifts given to her by Mama Tissot. She looked like a Polynesian princess with a handmade headdress, many beads, boxes of bananas, mangos, pamplemousse and more than we could possibly eat by ourselves, so we shared it with our fellow cruisers. The Marquesans are incredibly kind and giving people. It was a great experience meeting them in Ua Pou!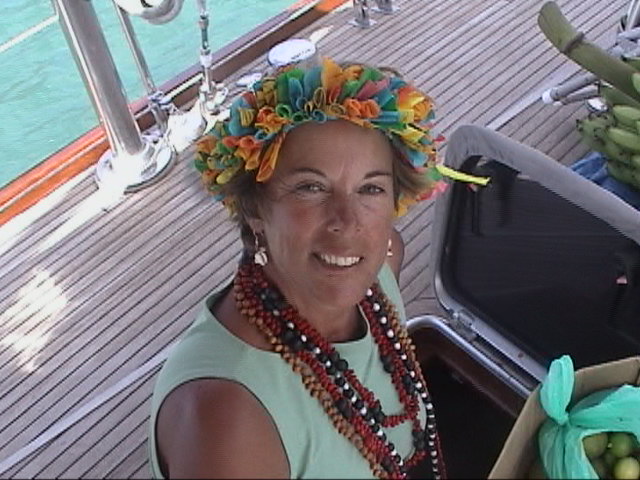 Suzy showered with gifts
May 1, 2002
Itís a short sail over to Nuku Hiva from Ua Pou. We had a good steady breeze and made the passage rather quickly. We arrived at the entrance of Taiohae Bay passing the Sentinels (the rock spires on either side of the harbor guarding it like sentries) with a bit of nostalgia. Forty years before, I had one of my first ham radio contacts with another ham outside the United States. It was a man named Danny Weil, VP2VB, from England and the British Virgin Islands. Danny was operating from Nuku Hiva after sailing his yacht Yasme into this very same harbor. That contact, as a young teenager, was my inspiration to do this myself some day on my own boat We toasted Danny that night at cocktail hour.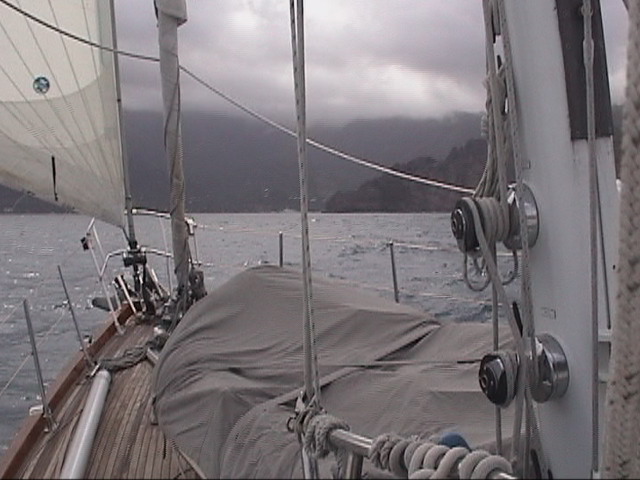 Final Straw entering Taiohae Bay, Nuku Hiva
Danny Weilís QSL card confirming our contact on 29 January 1962 on 40 meter cw is pictured below. Danny was attempting to be the first Brit to circumnavigate the world solo. He was the first person to stop at remote islands in what became known in ham radio as the modern DXpedition. Dannyís first attempt to circumnavigate was in the early 50ís. But, he was shipwrecked off Papua New Guinea and lost the boat. So, he had to start over. His second boat, Yasme II was shipwrecked in the Caribbean. So, when I contacted him, he was on the Yasme III. He sailed Yasme III to Clipperton Island and had a harrowing experience with bad weather that caused damage to the boat. He eventually sailed to San Diego where the San Diego DX Club was instrumental in helping him raise contributions to repair the boat and continue the DXpedition. Danny made it to Fiji, but, for a variety of good reasons (finances being one of his problems) he had to abandon his plans and returned to the States where Yasme III was sold. Today, Danny is in his 80ís and is living in a retirement community in San Antonio, Texas.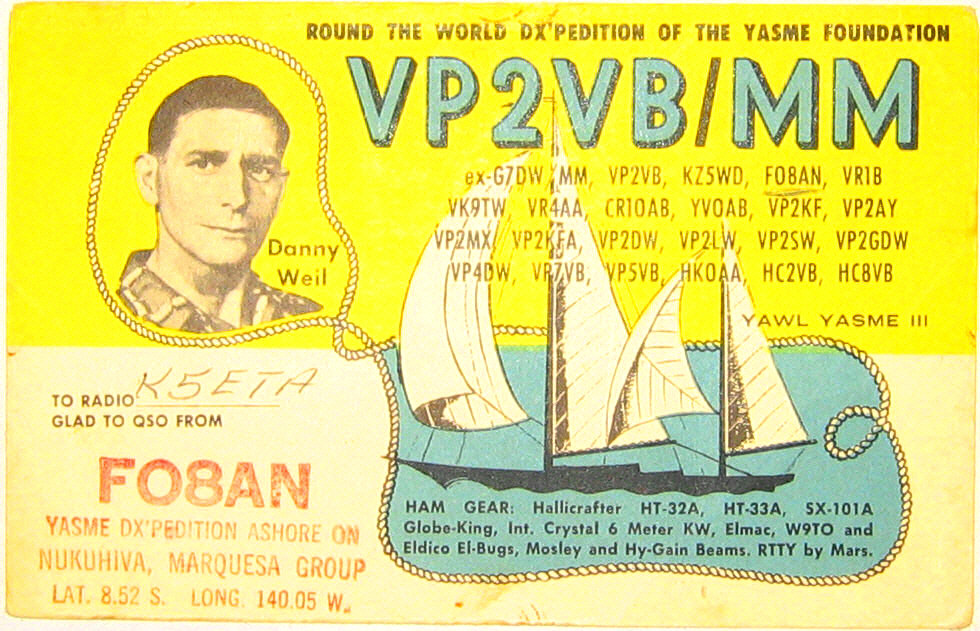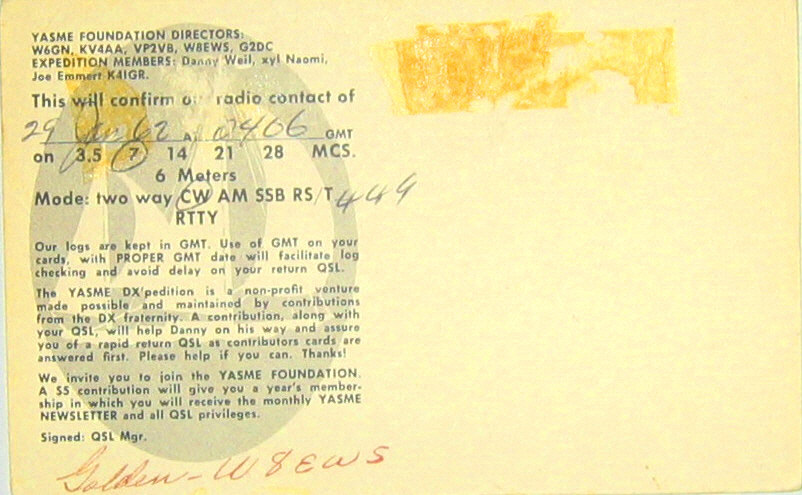 Danny Weil's old QSL card
May 3, 2002
We spent eight days at Nuku Hiva. We toured the island and drove through the mountainous passes with spectacular views. This is also where the Survivor reality TV program had been staged earlier. The program was being played back in the States while we were there.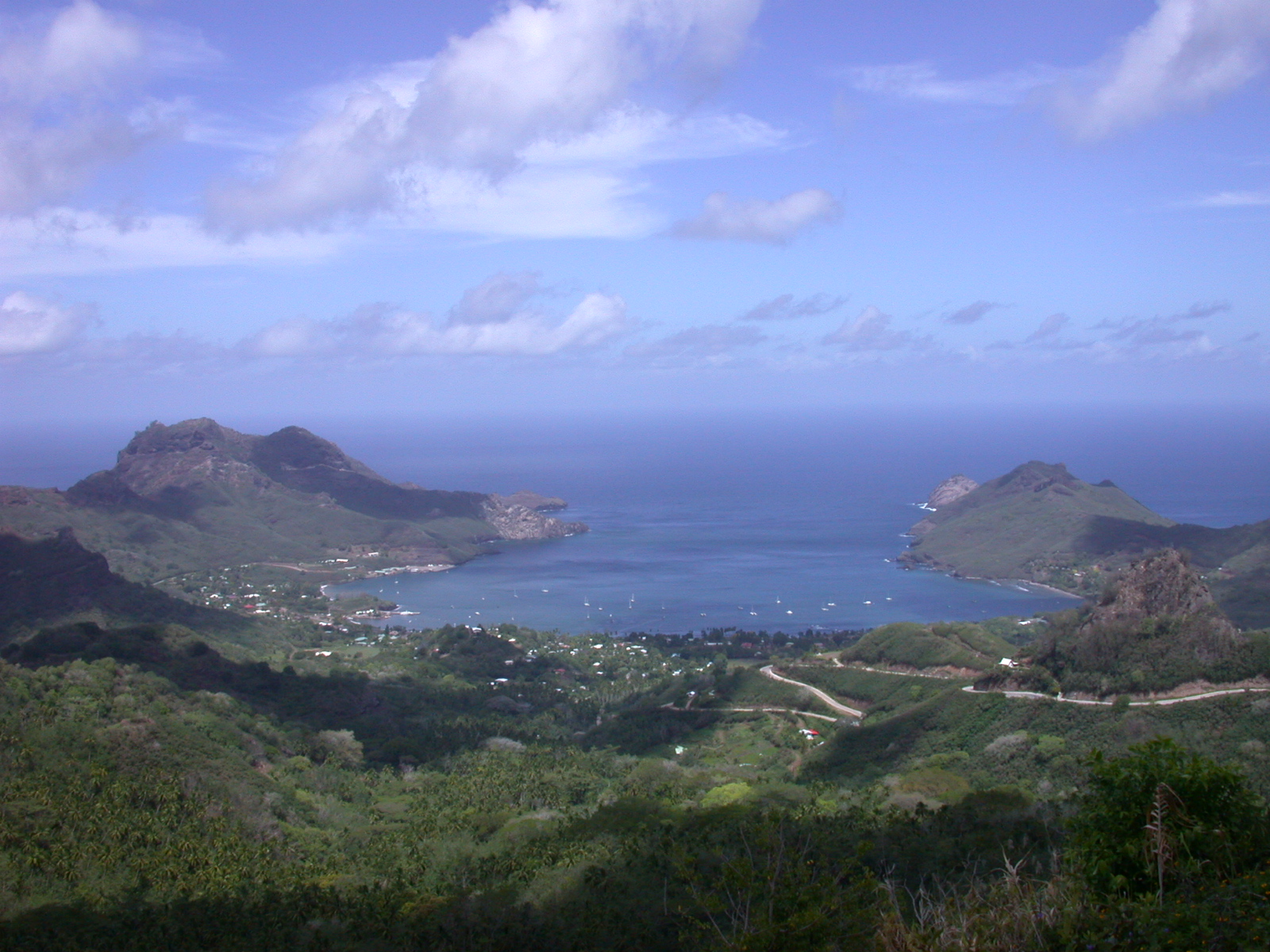 Taiohae Bay, Nuku Hiva
May 8, 2002
We visited the west end of Nuku Hiva where the island is sparsely inhabited. The trail to the waterfall here is very pretty and overgrown with lush tropical plants. The biggest problem was the large no-see-um bug population. They do bite and leave nasty little welts on your arms and legs. Thatís the price you pay to visit these beautiful places!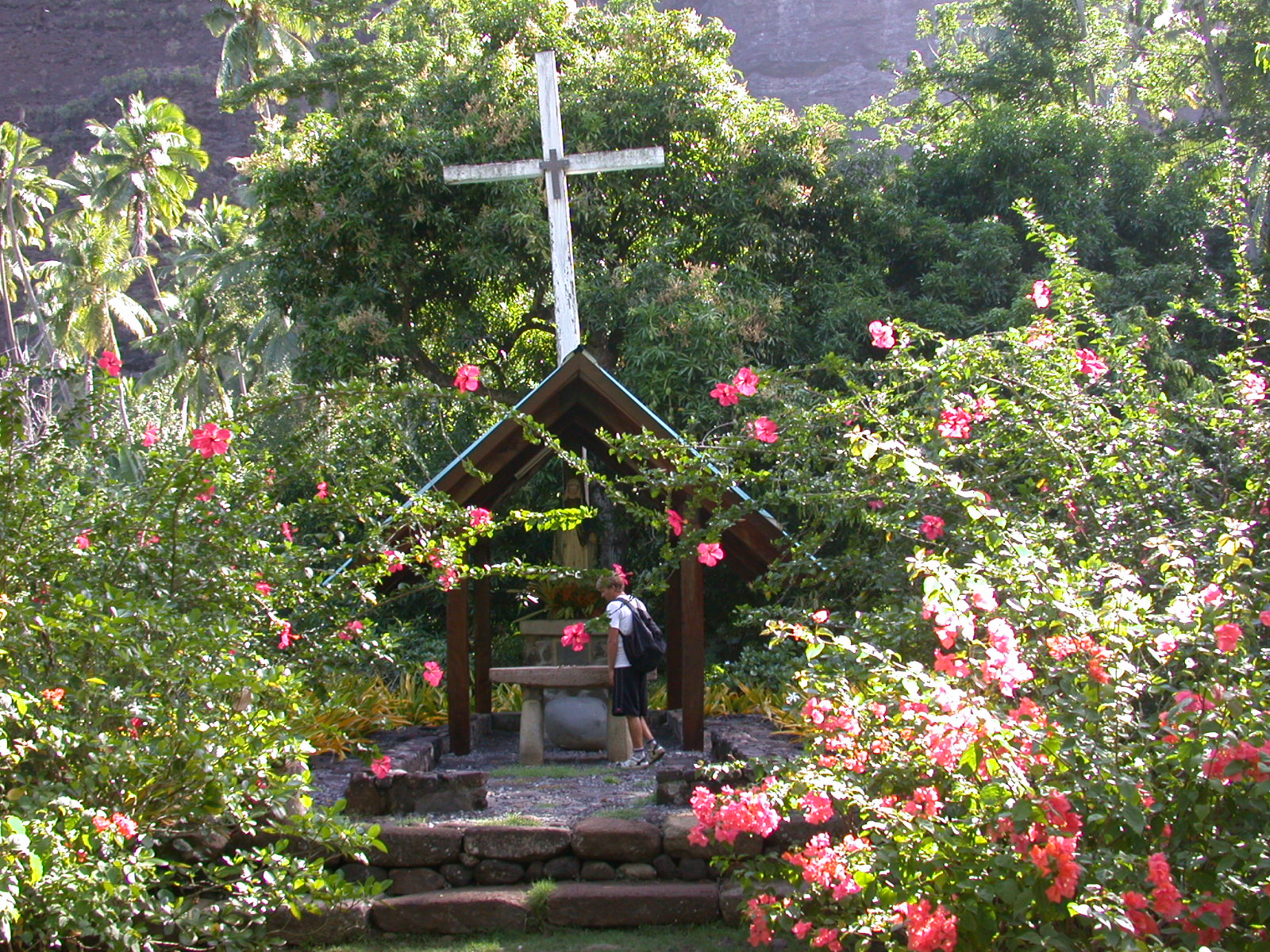 Kevin at church near Daniel's Bay
May 9, 2002
After just over a month in the Marquesas, it was time to move on. So, we set sail again and began the three day passage to the Tuamotu Archipelago.
To continue the adventure, click here for the Tuamotus.
To go back to home, click here.