Fiji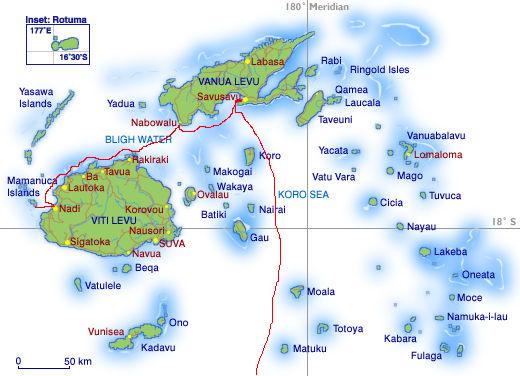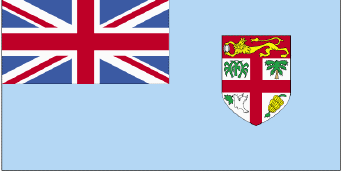 Map and flag of Fiji
The map above shows the route Final Straw took during our two month stay in Fiji. We arrived in Savusavu, on Vanua Levu Island, on May 22nd, 2004. We were planning to stay only one week before moving on. We felt there was so much to see In Fiji that we'd need to keep a fast pace to see just the highlights. Well, the best laid plans often go astray. You could spend the entire season here and not see it all. It clearly takes a few seasons just to do it justice. We also didn't realize we had just arrived on the truly rainy side of Fiji and Vanua Levu. Almost every day we had showers. Often times, visibility was poor. So leaving became a bit more challenging than we thought it would be. We did make one attempt to leave after several days. But a squall came up as we were going out the pass. With it, came rain and 20-25 knots of wind on the nose. So, we turned back and picked up our safe mooring. As it turned out, that one week plan turned into a three week stay through a combination of us enjoying the amenities, the weather and an engine problem we had to fix.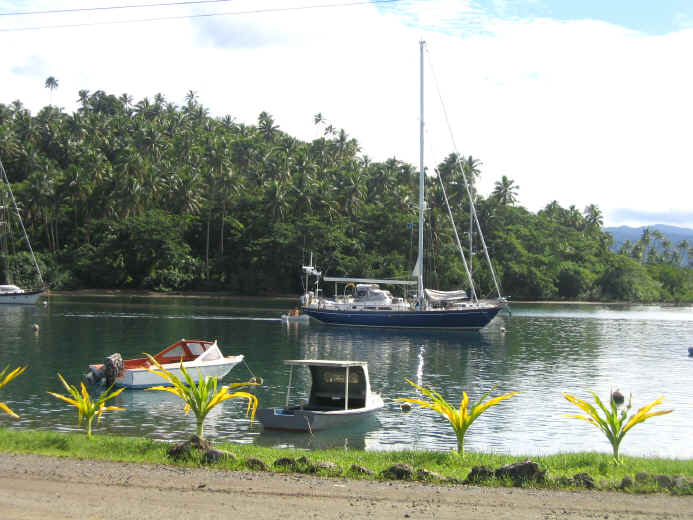 Final Straw moored in Nakama Creek
Our spot in Nakama Creek was close to the Copra Shed dinghy dock and that gave us easy access to land. It turns out, there are three "marinas" at Savusavu. They don't have berths like conventional marinas we're used to. Instead, they have mooring buoys which are anchored to large concrete blocks. You don't have the amenities of a conventional marina like power or water. Its more analogous to being at anchor where you use your generator for power and you make water with the watermaker. Because it rained a lot in Savusavu, Nakama Creek had a tendency to produce silt in the water. So, changing filters when making fresh water was a constant battle. But, it was a very pleasant and comfortable spot as the picture above shows.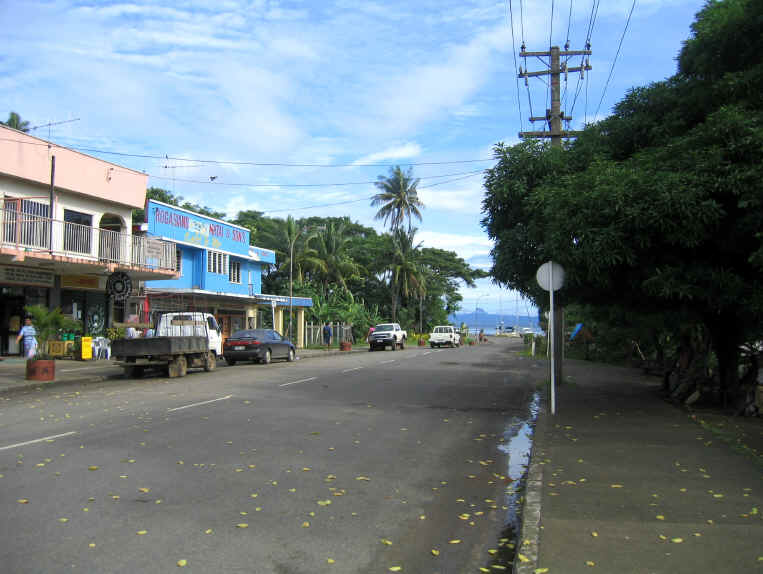 Main Street Savusavu
The town had a few nice restaurants, a good market for fresh vegetables and seafood, a couple of internet cafes, a reasonably stocked supermarket (maybe rated a 3 on a scale of 10 compared to New Zealand) and stores where you could buy hardware, fishing gear and sundry items. Savusavu is the second largest town on the island of Vanua Levu. The largest city is Lambasa. We chartered a bus with a group of our yachtie friends and took a trip over the mountains to visit Lambasa for a little excursion. We passed through several little villages along the way. The kids and even their parents would see us coming and wave wildly with great big smiles yelling "Bula, Bula!!", Fijian for welcome. It was quite a sight. I can't think of where we've had such a wonderful greeting as we were just passing through town.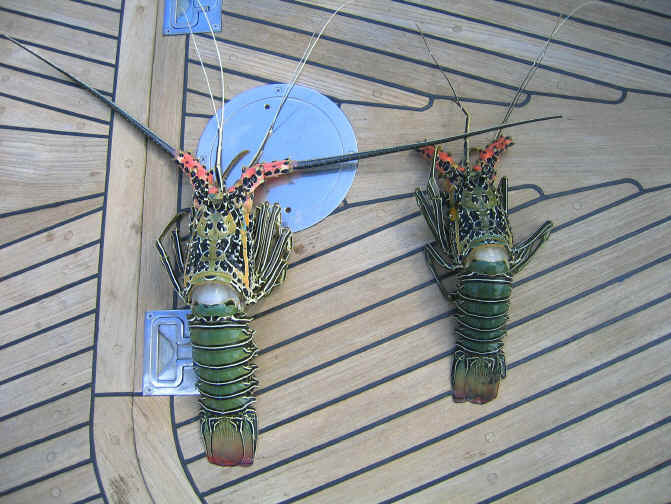 Green Fijian Lobster
The seafood available at the local marketplace was fresh daily and it was excellent. These two green lobster were purchased for $9 U.S., a huge bargain compared to the price for lobster in the States. These two weighed in at a total of 2.2 pounds and were among the sweetest I've ever had. We invited Dave & Gay from Mobisle over and grilled the lobster on our barbecue aboard Final Straw. It was a pretty good night!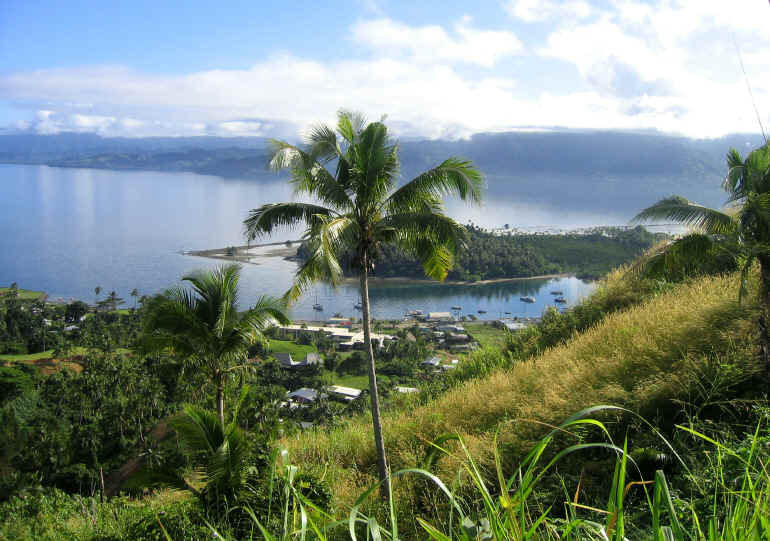 Nakama Creek, Savusavu
Besides the trip to Lambasa, we also made a group tour around the south side of Vanua Levu. On the way out, we stopped in the hills above Savusavu to take this picture of our anchorage in the estuary at Nakama creek. The bay in the background is Savusavu Bay. Lambasa is on the other side of the mountain range in the far distance off to the right of the photograph.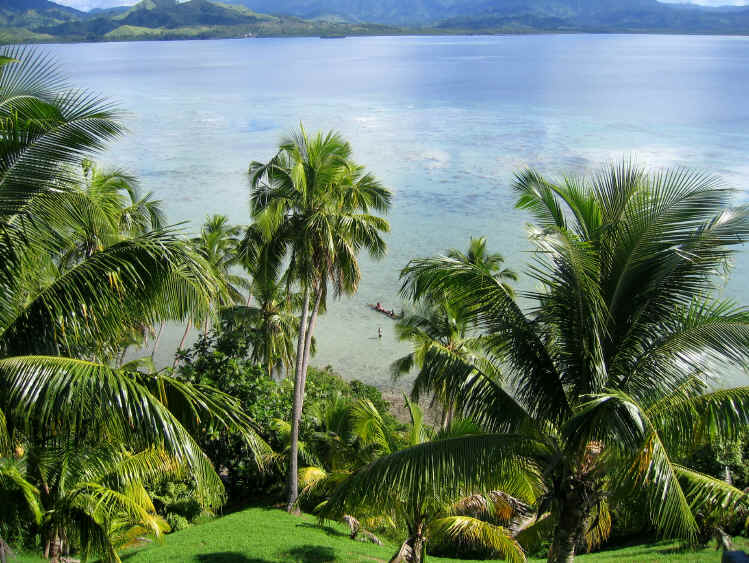 View from Lomalagi
The first stop on our trip around southern Vanua Levu was a small, but, exclusive resort called Lomalagi or "heaven" in Fijian. It consists of six luxury villas overlooking the large 600 square mile Naweta Bay. The place is owned by a nice lady from Seattle. The views are beautiful. This is where George Harrison of The Beatles fame came just before he passed away from cancer.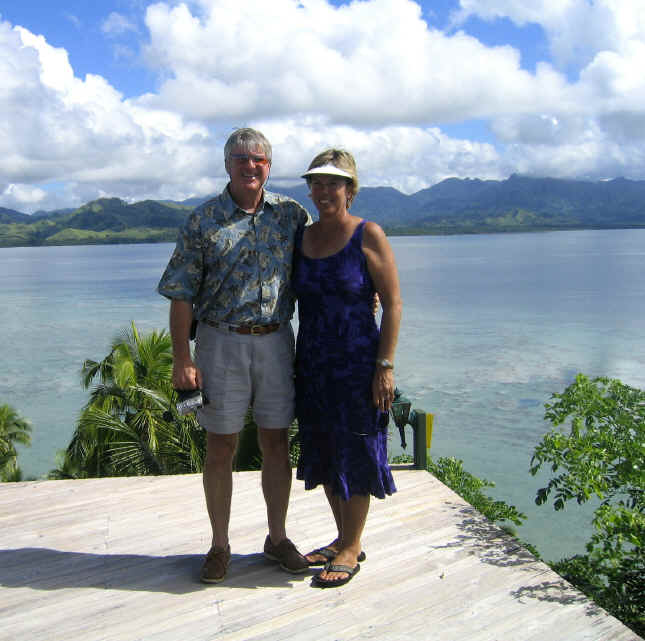 On the deck at Lomalagi
Suzy and I posed for the obligatory photo on the deck at "heaven". The guests were on excursions around the island, so, we didn't see anyone there but the owner and a few employees. If you'd like to see more on Lomalagi, just click on the blue link. There are a few other luxury resorts like Lomalagi on the island of Vanua Levu. Its generally less visited and more secluded than its large neighbor, Viti Levu, which has many fine resorts.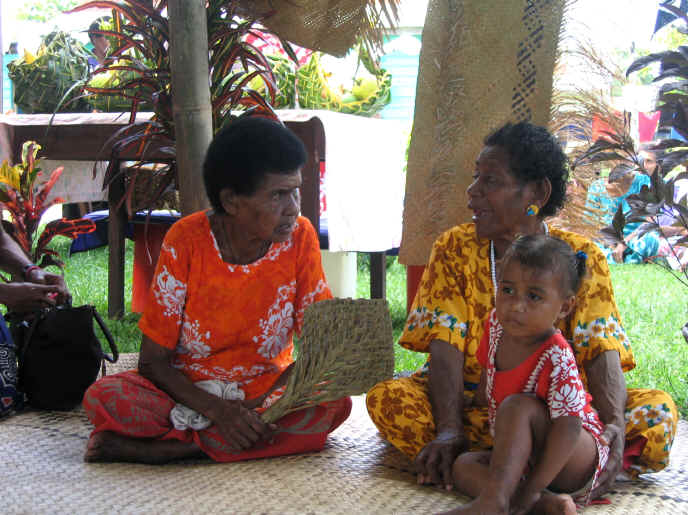 Village ladies
Our second stop on this trip was at a small Fijian village where we were treated to a traditional kava ceremony. Our guide was from the Copra Shed marina and he brought us to his own home village. He arranged for the Chief and the villagers to meet with us and they put on a traditional Fijian feast which was quite tasty. The ladies were adorned in beautifully colored dresses called "Mother Hubbards", introduced to the Islands by the missionaries in the early part of the last century. One lady came around to each of us and put talcum powder on our face, a sign of welcome. After lunch, we participated in the drinking of kava. We were taught what to do back at the Copra Shed, so, we had practiced the ritual before we came. It was an interesting cultural event.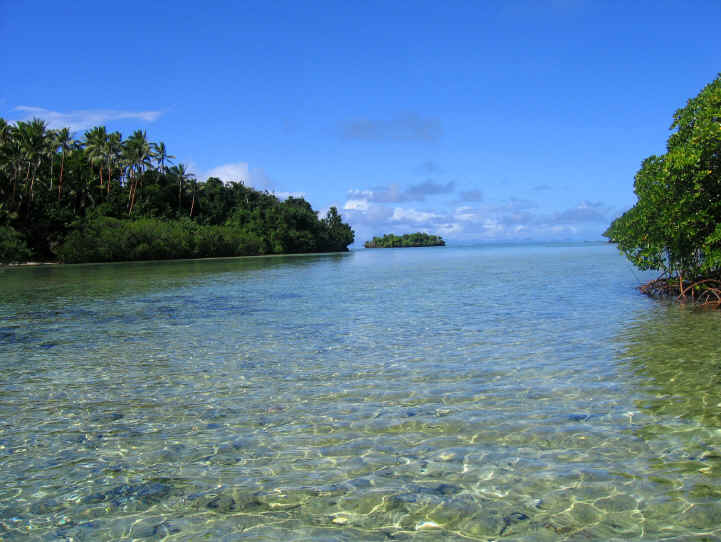 The pathway to the red prawns
Our village hosts took us on a long journey to see the rare red prawns. They live in a salt water lagoon on a small island a few miles through the mangroves from the village. We missed low tide, so, we had to wade knee deep (and higher) through the water. It was an experience made even more fun by the young children that held our hands and helped us over the coral and through the jungle paths. The red prawn are only found in a couple of places in Fiji and are considered sacred. So, they lead pretty good lives and don't get eaten by people. We saw about 20 in the lagoon and were told to see so many is quite rare. Most times there are no more than three or four, if that. The kids sang a song to call the prawns for us and that was quite special. The friendliness and gracious nature of these people was truly heartwarming.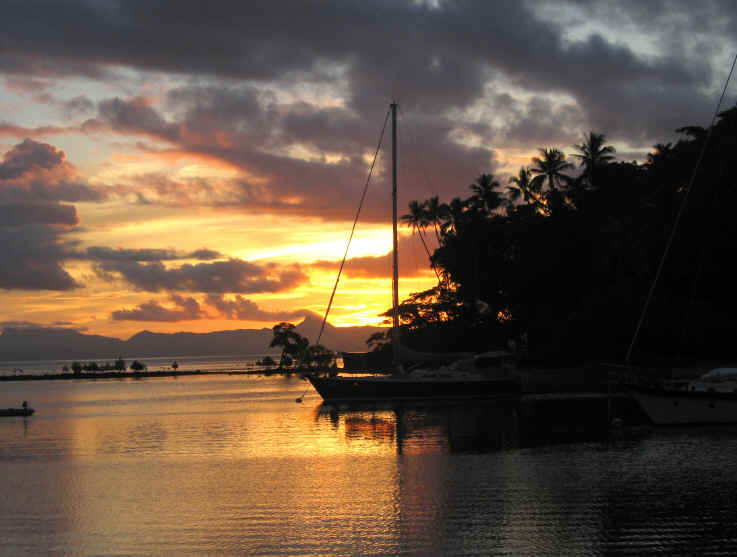 Sunset at Savusavu
We enjoyed our three week stay in Savusavu. But, when a good weather window appeared, we were ready to go and decided to head for the dry west side of Fiji, at Viti Levu, a place we had heard much about. So, on June 16th, 2004, we dropped our mooring at Nakama Creek and headed through the reefs to Nambowalu on the southwest tip of Vanua Levu.
Click here to continue on to Crossing Fiji to Musket Cove.
or
Click here to go back to the home page.