Tamborine Mountain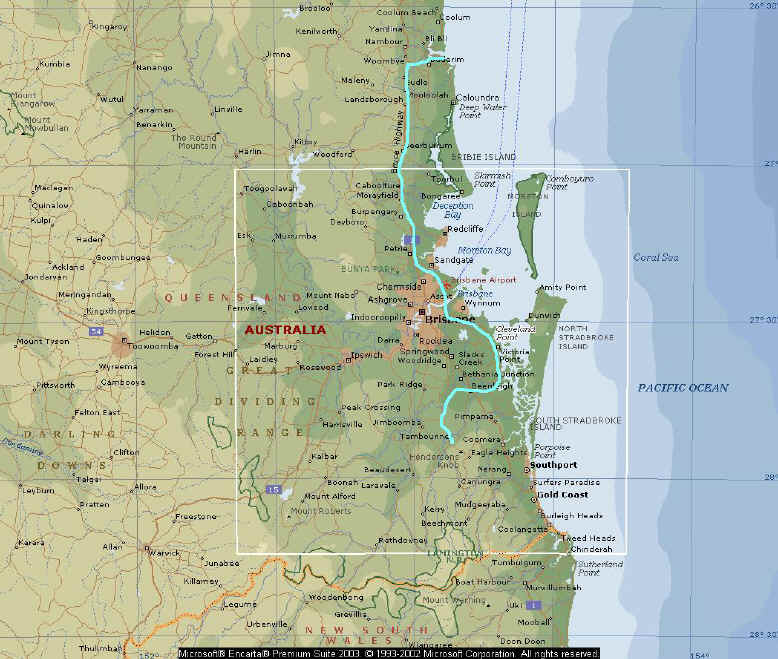 The drive from Mooloolaba to Mount Tamborine
For Suzy's birthday in May, we took a trip just south of Brisbane to spend several days up in the Tamborine Mountain area. This is a beautiful spot with spectacular views back to the Gold Coast and Surfer's Paradise. John & Ariana from s/v By Chance and Dave & Gay from s/v Mobisle joined us. We all brought our bikes so we could ride through the little villages and visit the attractions in the area while maintaining our svelte physique.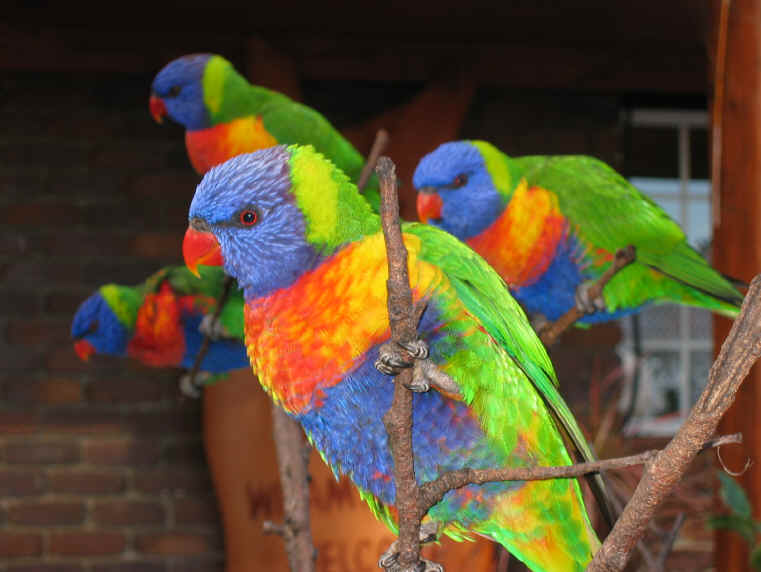 Rainbow Lorikeets
All along the Queensland coast, you will find beautiful tropical birds. There are probably none brighter and more colorful than the rainbow lorikeet. When we arrived at Mount Tamborine, we stopped at a restaurant and there were literally hundreds of these little birds. They maintained a watchful eye on whatever you were eating. They showed no fear of people. They just wanted bread or anything sweet to eat. They were generally patient. But, when one made a move for a left over, along came twenty more!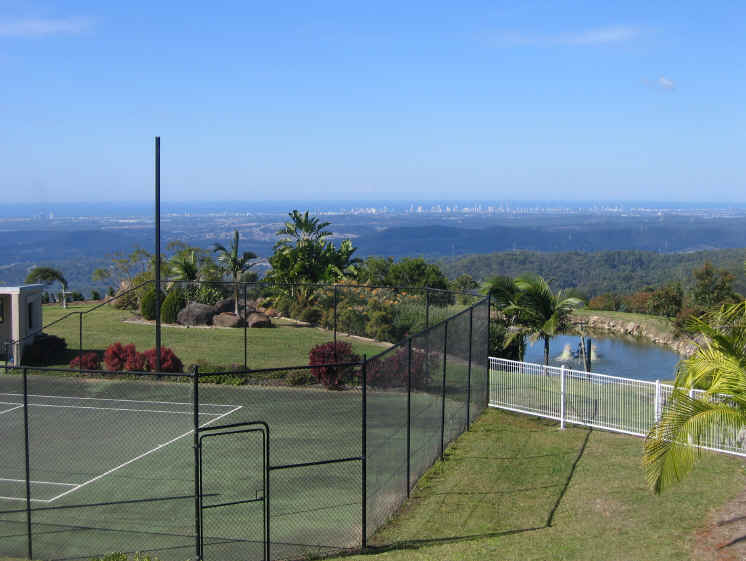 View from Tamborine Mountain east to Surfer's Paradise
It's not much more than a 30 minute drive from the coast to the mountains and the views are beautiful. Surfer's Paradise is reminiscent of Miami Beach with numerous high rises lining the coast line. But, something Florida doesn't have is the added benefit to be able to escape the crowds at the beaches for cooler mountains with panoramic views.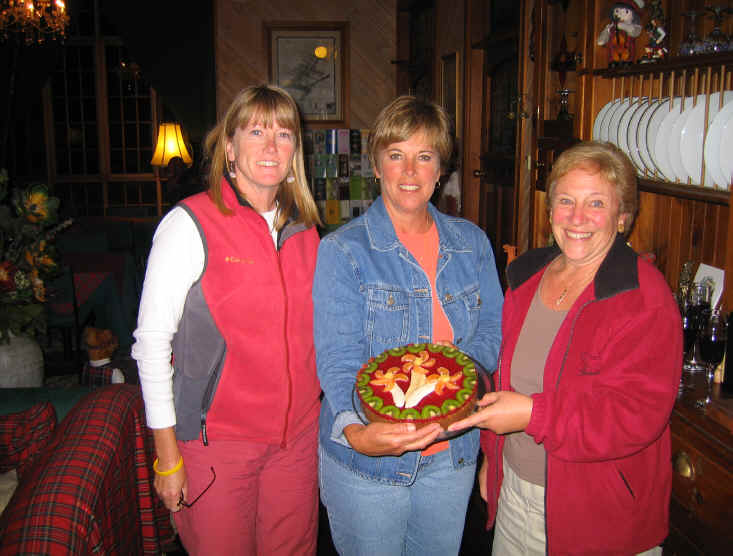 Suzy's birthday cake
(Left to right: Gay, Suzy, Ariana)
For Suzy's birthday, Ariana made one of her creative and delicious cakes. This one had an appropriate tropical theme. We stayed at the Stonehaven Manor Scottish resort, a very comfortable spot which we would recommend. They have a nice large guest lounge area with a fireplace. We had a nightly match of Mastermind around the fire with our evening cocktail. More details may be found about the lodge by clicking on the link, Stonehaven Manor at Tamborine Mountain.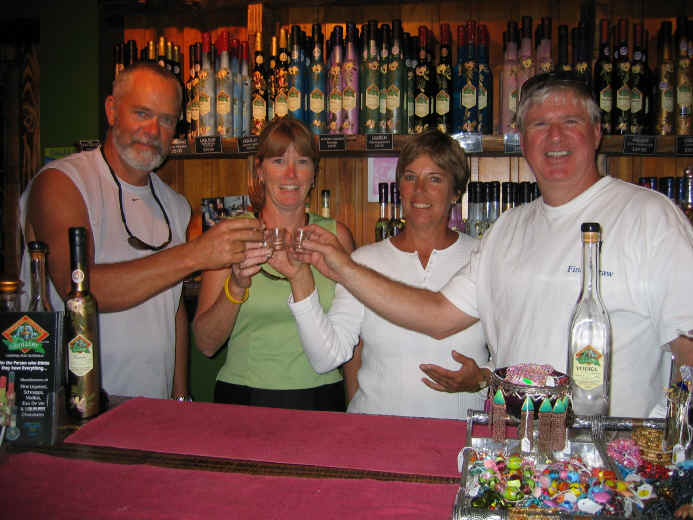 Dave, Gay, Suzy & Clark toasting Mount Tamborine
We enjoyed seeing the sights and riding our bikes around the area. We stopped at wineries, cheese shops, art galleries, restaurants, etc. That's how we maintain our svelte physique! A favorite stop during one of our rides was at Michael & Alla Ward's Tamborine Mountain Distillery. Michael is a real Aussie character and he kept us laughing for an hour. He enjoys talking to Americans and was in the process of arranging for some of his products to be distributed in selective parts of the States. So, he had lots of good questions for us. He had us try many of his very tasty liquors and flavored vodkas, in moderation, I might add. We liked them enough to buy several bottles. Some of the bottles were attractively hand painted by Alla. Michael also took us into his private shop where he distilled the various flavored liquors. It was a very enterprising venture and made for an interesting tour. To get a better idea of their establishment, take a look at his web page by clicking on the link, Tamborine Mountain Distillery.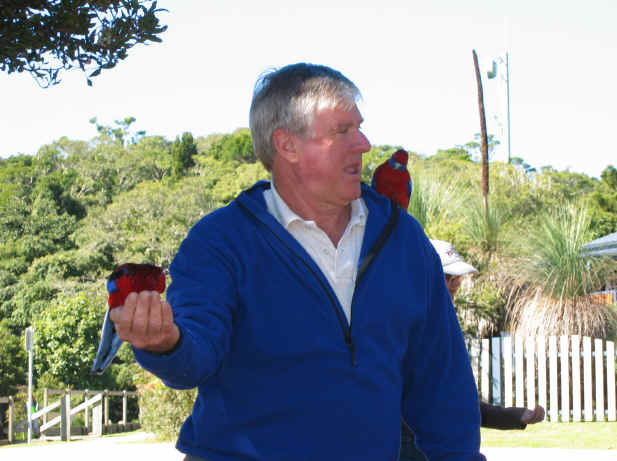 Clark with Crimson Rosellas at O'Reillys
A short drive from Mount Tamborine is Lamington National Park. One of the most popular places at Lamington is O'Reilly's Rainforest Guesthouse. It was established in the early 1900's by the O'Reilly brothers. They took advantage of a land offering by the Queensland government in 1911 to establish cattle grazing and open up more of the territory to the early settlers. Over time, the cattle grazing evolved into a lodge and today it's a national ecological treasure. Bird watching is very popular here. Much like Mount Tamborine and the lorikeets, O'Reilly's had their crimson rosellas. In the photo above, I was feeding one in my hand when another landed on my shoulder. Shortly after this photo was taken, a third one landed square on my head. If you'd like to read or see more about O'Reilly's, click here.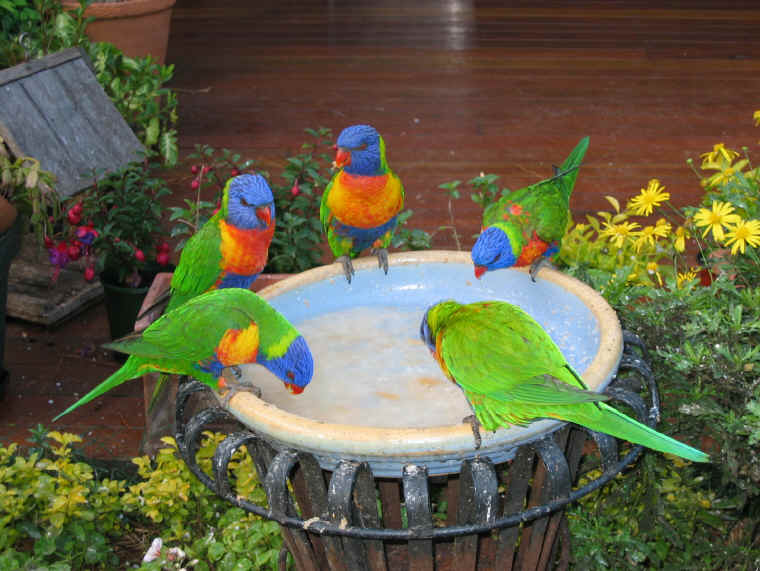 Lorikeets having lunch
There were several nice restaurants in the Tamborine Mountain area. We enjoyed stopping at the The Polish Place (where Suzy took the photos of the lorikeets) for coffee and dessert while admiring the fantastic view and watching the hang gliders. But, one of our all time favorite spots in Queensland and where we celebrated Suzy's birthday dinner was a place called Songbirds. Its tucked into the rain forest not far from the Stonehaven Manor Lodge. It has a cozy and comfortable setting and the food was delicious. They have an excellent wine selection and the dinner was high quality. We highly recommend it for anyone who might go to the Mount Tamborine area. It was a perfect spot for a special occasion. A little more information and a few photos may be found at the Best Restaurants of Australia website by clicking here. Please note, we just really liked the places mentioned above. The owners don't even know we mentioned their establishment on our website.
Click here if you'd like to go back to "Travels in Australia".
Please click here to return to the home page.