Traveling along the Queensland coast
The big trip for us in 2005 was a thirty day, 2500 mile roundtrip drive from Mooloolaba to Port Douglas. We made numerous stops along the way including places like Rockhampton, Gladstone, Yeppoon, Airlie Beach, Townsville, Cairns and Mission Beach. Its a nice drive along Highway 1, also known as the Bruce Highway. But, the downside is it only has two lanes almost the entire way. This was a bit surprising since the Bruce Highway, in terms of prominence and use, is equivalent to what would be an interstate highway in the States. But, accommodations are made in many areas to provide a passing lane, especially on hills, so one can get around the big trucks and the incredibly large number of caravans and campers used here.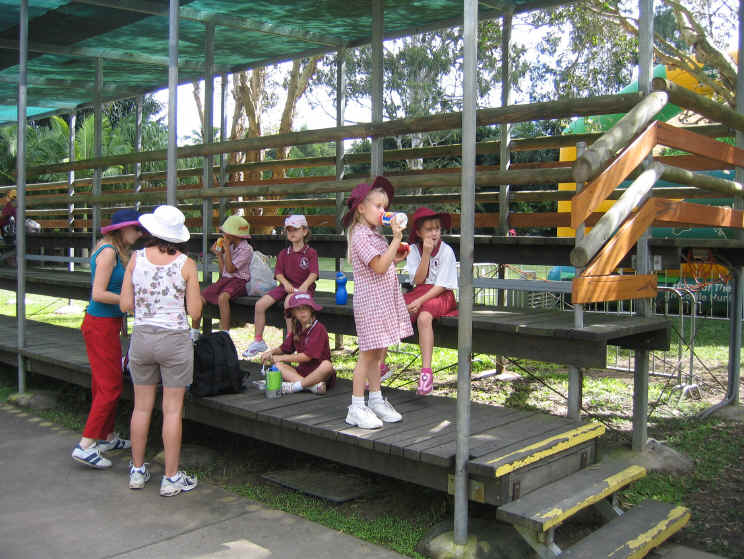 Aussie schoolchildren in uniform at the Australia Zoo
One of our first stops was the nearby Australia Zoo in Beerwah. If you've ever seen Steve Irwin, the Crocodile Hunter, on television, this is the place he and his family have made famous. He's that enthusiastic Aussie that uses the word Crikey (gee whiz) in every other sentence. It's worth the stop because they put on an interesting show and you can see an extensive sample of Aussie wildlife all in one place. It's a bit more touristy than we normally like. But, we certainly enjoyed ourselves and would recommend it to anyone visiting.
Feeding the crocs
The main attraction is the crocodile show. They feed the beast and, as everyone knows, it's a pretty aggressive breed of animal. They give you tips on what to do and what not to do if you should accidentally come across one of these guys while trekking through the swamp lands. There's also a poisonous snake show, a tiger show and a tropical bird show. So, you get pretty good entertainment for a few hours.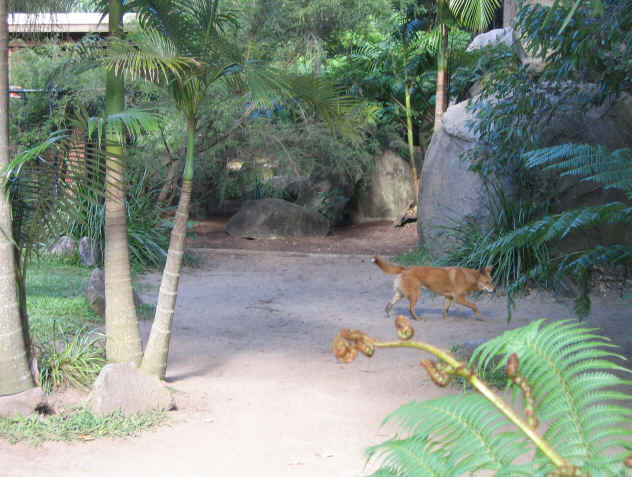 Dingos
Another animal we heard a lot about are the dingos, a wild dog that lives in the Outback. There's a large group of dingos living on nearby Fraser Island. They aren't normally aggressive towards adults. But, there have been attacks on small children and caution should be exercised if you come across them in a large pack.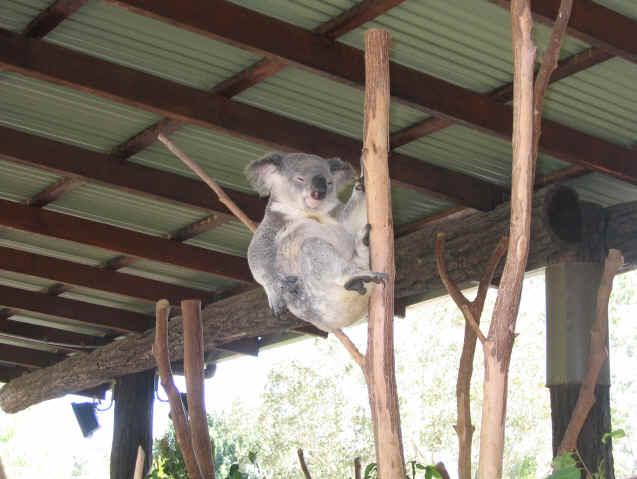 Koalas
Probably one of the cutest native Australian animals is the koala. Like the kangaroo, wallaby and wombat, it's a marsupial. They spend most of their day sleeping in eucalyptus trees and then they forage at night.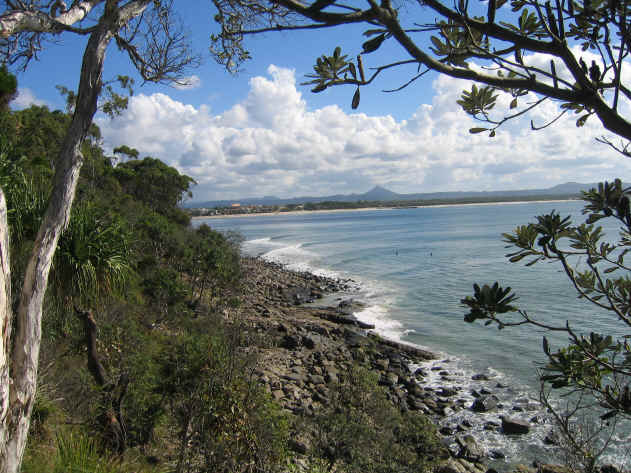 The park at Noosa Heads
Just north of Mooloolaba is the pretty upscale resort town of Noosa. We made several visits here and hiked through the park at Noosa Heads. There are wild koalas throughout this park. But, they're very shy and often hard to find. The surfing is also very good around the Noosa headlands and surfers hike through the park with their boards to try to catch those magic waves.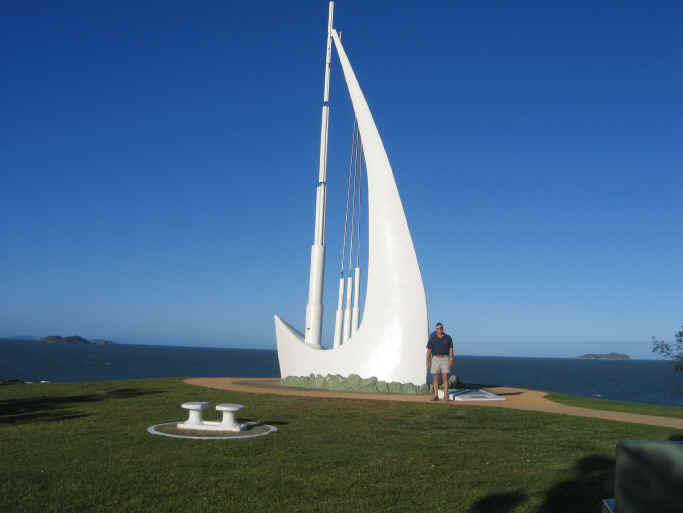 Singing Ship Monument to Captain James Cook
We began our trip north on July 4th and made initial stops near Bundaberg and Rockhampton. After that, we stopped at a neat little beach town with a fabulous beach called Yeppoon. It's also adjacent to the Keppel Islands. Not far from Yeppoon is the town of Emu Park where a memorial stands to Captain Cook who sailed these waters in 1770. He named the surrounding bay Keppel Bay. The monument is quite unique in that it's constructed such that when wind blows across the wires connected along the "sail", it makes a singing noise. The monument was completed and dedicated in 1970 on the 200th anniversary of Cook's "discovery" of Keppel Bay and nearby Great Keppel Island. There's also a time capsule that may not be opened until the 300th anniversary in 2070.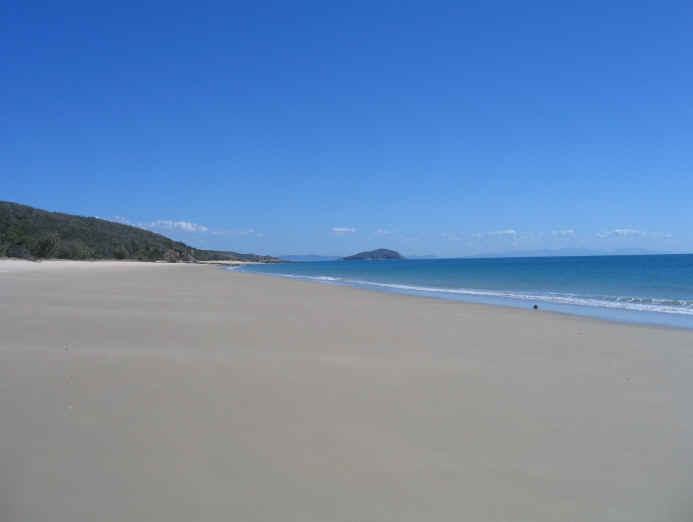 The beach at Yeppoon
One of the most expansive beaches we have ever seen was here at Yeppoon. In went on for miles. And, there were very few people on it. Some days we were the only people in sight and had it all to ourselves! We stayed at a small cottage on the beach that had opened just a month earlier. It came with a full kitchen, dishwasher, washer & dryer, private barby and cable TV for the grand sum of $80 Australian per night (about $60 US). It was the best bargain and value we saw anywhere along the coast. We enjoyed it so much we stayed there three nights on the way north and stopped again for four nights on our return. We had our bikes with us and had some nice rides around the area.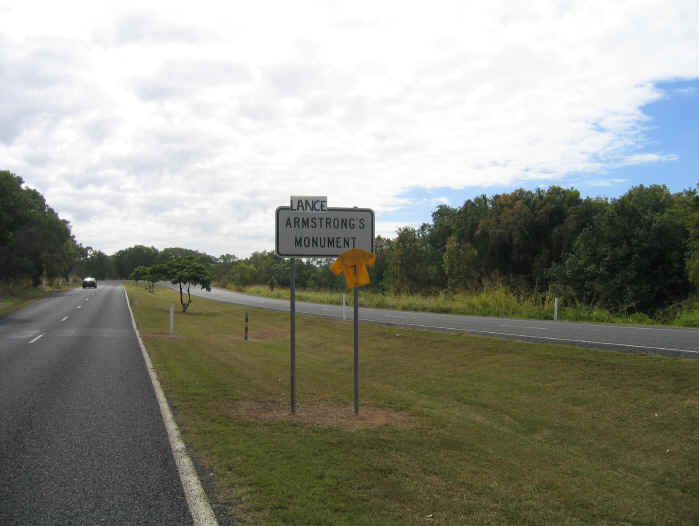 "Modified" sign for Lance Armstrong
Speaking of bike riding, while we were on this trip, the Tour de France was underway. We watched the various stages nightly on cable TV. It was followed closely in Australia as they had several excellent riders of their own and the people of this country are very sports minded. We were in Yeppoon when Lance won his record breaking 7th tour. The day after he won, we were driving down the highway near our cottage and saw this "modified" sign commemorating his victory. It now reads the "Lance" Armstrong Monument and came complete with a hanging #7 yellow jersey.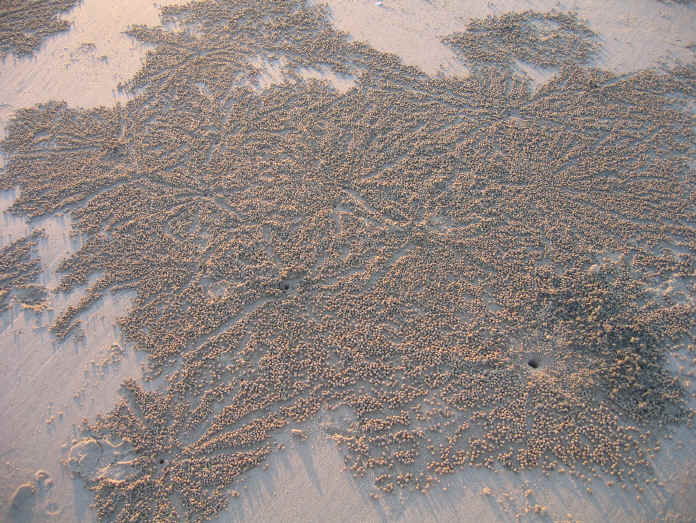 Crab holes on Yeppoon Beach
We got a kick out of these crab holes along stretches of the beach at Yeppoon. Each night, the crabs would build their foxholes in the sand. As they dug little balls of sand out, interesting geometric patterns would appear. There were literally thousands of these holes in some areas. Occasionally you would see a crab scurrying across the sand and diving back into a foxhole at lightning speed before a sea bird could get to them for dinner.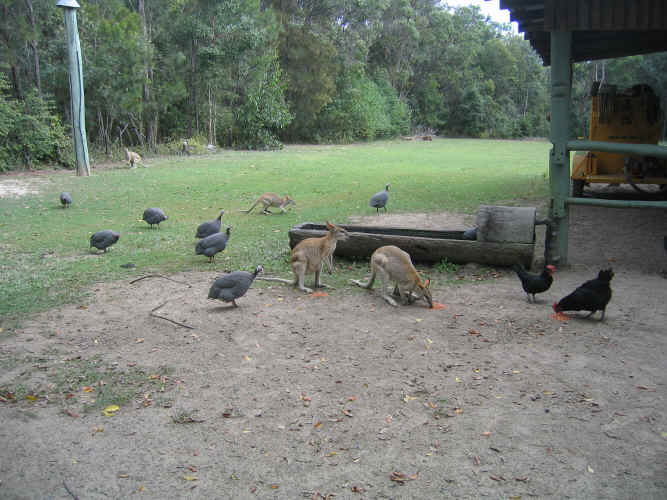 Wild wallabies feeding
We took a few excursions from our base at Yeppoon, including a visit we made to an ecological resort on the edge of a national park. While talking to the owner, a number of wild wallabies came out of the brush to feed on grain he had put out to feed his roosters. The turkeys looked on and were hoping the wallabies would leave something for them. The wallabies were quite timid and would run away if you tried to approach them.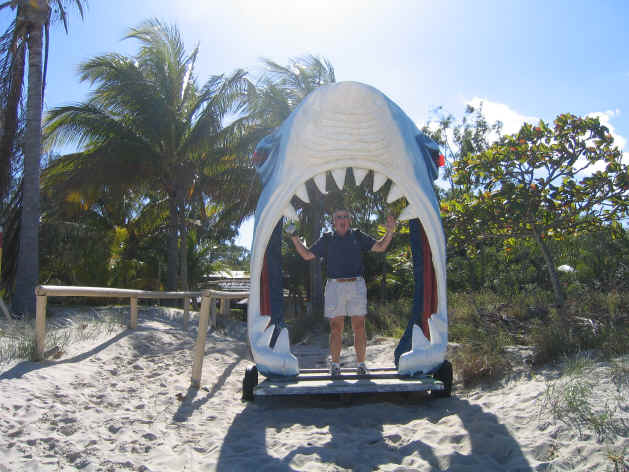 In the mouth of a Great White at Great Keppel
Aussie humor is big on giant plastic figurines. On this trip, we passed the Big Pineapple (about 30 feet tall) which marks an amusement park with a theme built around the pineapples grown locally in that region. Not to be outdone, there was another town that had it's Great Big Mango, followed by the Big Banana, the Big Avocado, the Big Crocodile, the Big Prawn and the Big Trout. On a day trip via ferry over to Great Keppel Island, we even found this Big Great White Shark's Head!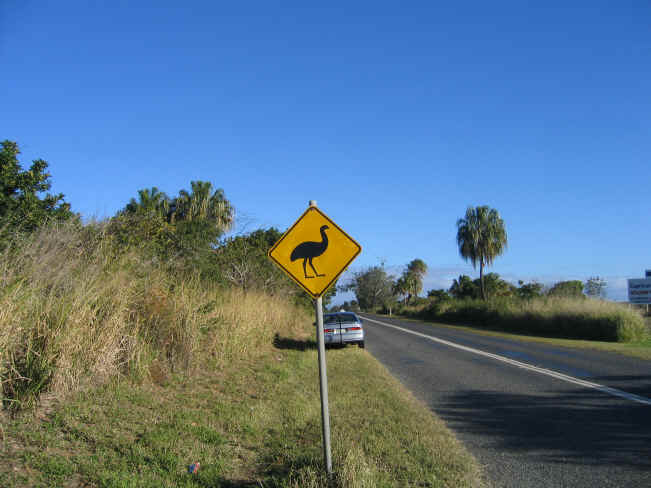 Watch out for Cassowarys!
Another thing we got a kick out of were the road signs. There were, as you might expect , numerous instances of signs warning of kangaroos in the area. It was also commonplace to see koala signs. But more rare were signs like the one in the photo above which brought your attention to the local presence of the rare and endangered cassowary, a large flightless bird similar to an ostrich, with an unusual plume on its head. It's the largest bird in Australia and second only to the ostrich as the largest bird in the world. They grow about 6 feet tall and weigh around 130 pounds. They're normally shy. But, if threatened, they can be very mean.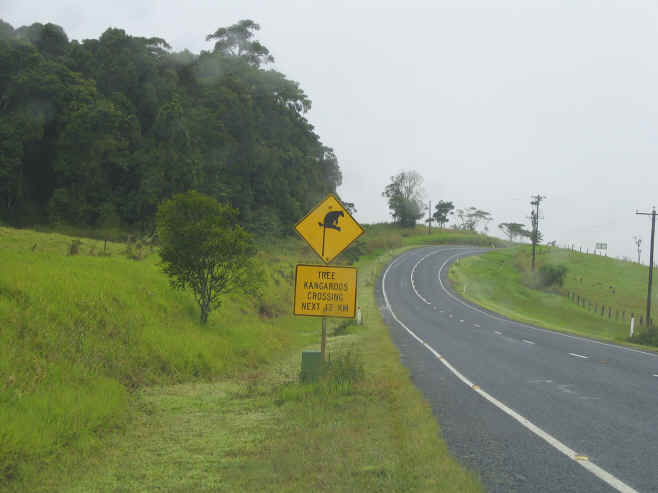 Sign for Tree Kangaroos
Another rare sign we came across was this one for tree kangaroos. They're also endangered. They're small versions of the land kangaroo with a very long tail that they use for balance as opposed to grabbing things. We looked for them, but, never did see any.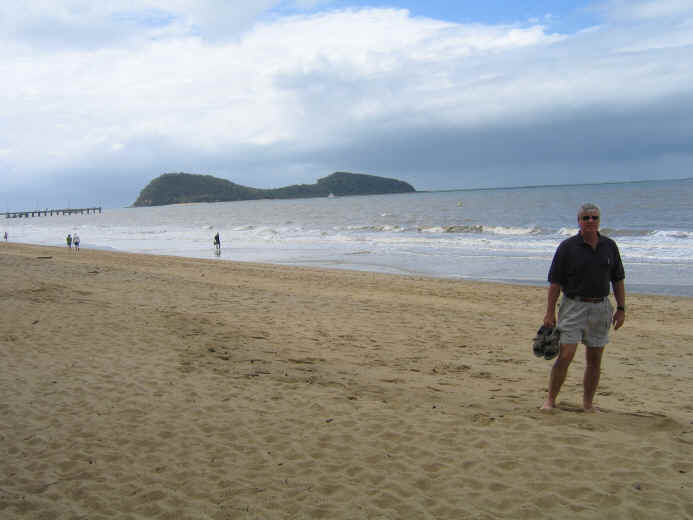 Double Island north of Cairns
Our trip took us north to Cairns, a very developed and popular tourist spot. We decided to stay just north of Cairns at a place called Trinity Beach. The photo above was taken on the beach at nearby Palm Beach and shows the small resort island of Double Island in the background. We traveled a little farther north from here to Port Douglas. To help put things in perspective, driving here would be equivalent to driving south to Acapulco from the States in the Northern hemisphere.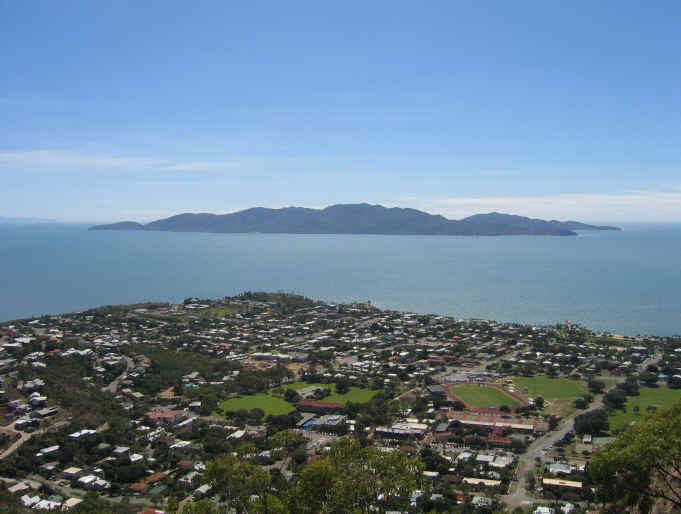 View of Magnetic Island from Townsville
We spent six nights at Townsville and enjoyed riding bikes here as well. We also took a day trip over to Magnetic Island (called Maggie by the locals) and enjoyed lounging on the beach and attempting to ride our bikes along the steep hills. Townsville has a vibrant history from World War II when the port was used as the main supply point for the Battle of the Coral Sea. It took strong US-Australian cooperation in that endeavor and a memorial stands in the park along the esplanade commemorating that lasting friendship. The US Navy still stops at Townsville. One carrier group returning from the Persian Gulf was here just a few weeks before our trip.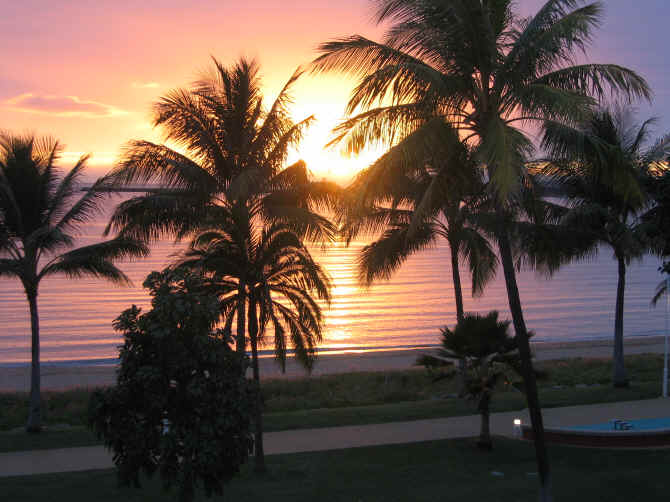 Sunset at Townsville
This beautiful sunset was taken from our hotel room along the esplanade at Townsville. We saw a great deal of the Queensland coast during the 30 days of this trip. It was interesting and quite appealing. Real estate along the coast is beginning to get expensive here. But, we saw some very good bargains in several areas that would certainly be appealing to anyone trying to buy ocean view property in California today. Having seen Queensland from a land perspective, we're now ready to do it again, but this time from the sea when we sail Final Straw up the coast in 2006.
Click here if you'd like to go back to "Travels in Australia".
Please click here to return to the home page.