A Special Anniversary in the Whitsunday Islands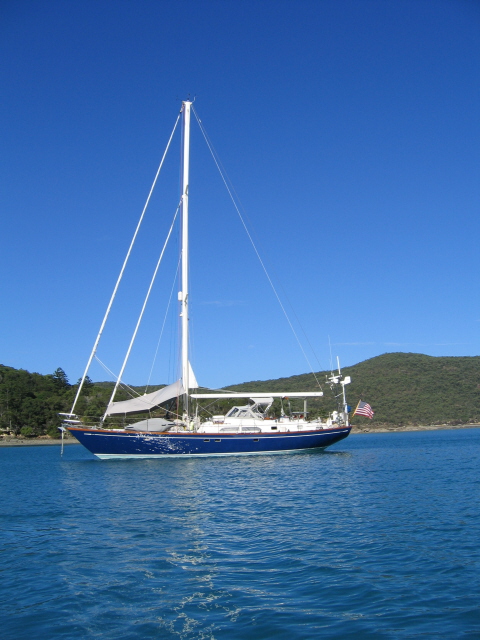 Final Straw anchored at Refuge Bay, Hook Island
The night before our anniversary, we decided to anchor at Refuge Bay in Nara Inlet at uninhabited Hook Island. It's a very quiet, peaceful and protected spot. Once again, there was a high wind warning coming for the next day. So, rather than getting caught in an exposed anchorage, we thought it best to come here. That night around cocktail hour, our Canadian friends, John & Ariana of By Chance, came over with a homemade menu complete with four choices each of an appetizer, salad, main course and desert. They explained they wanted to treat us to their own catered anniversary dinner. Their plan was for Arie to cook aboard By Chance and John would deliver it to Final Straw and would be our waiter for the evening. What a nice surprise!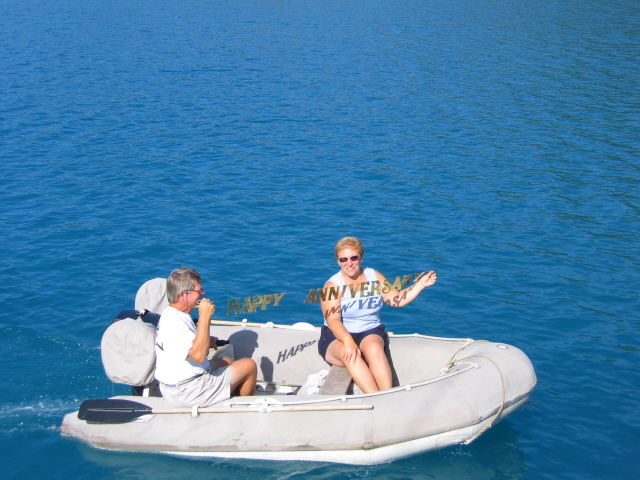 John & Ariana's morning greeting
The morning of our anniversary, they came over in their dinghy holding up a Happy Anniversary sign. It was the start of a special day they had planned for us.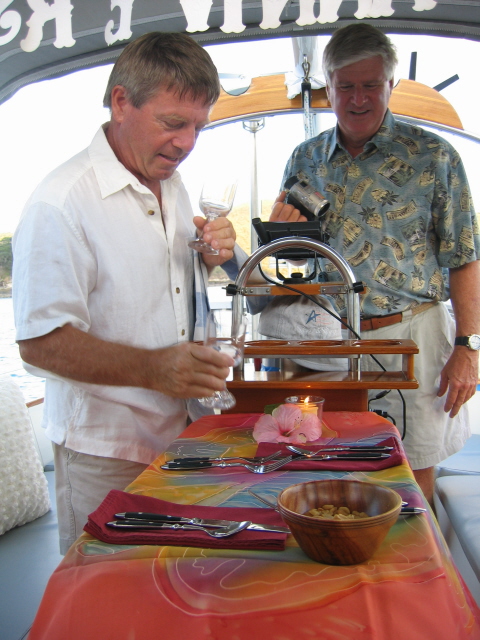 John setting the table
Late that afternoon, at cocktail hour, John came over to set the table in our cockpit. He brought a table cloth, linen napkins, silverware, a candle and snacks to have with our cocktails.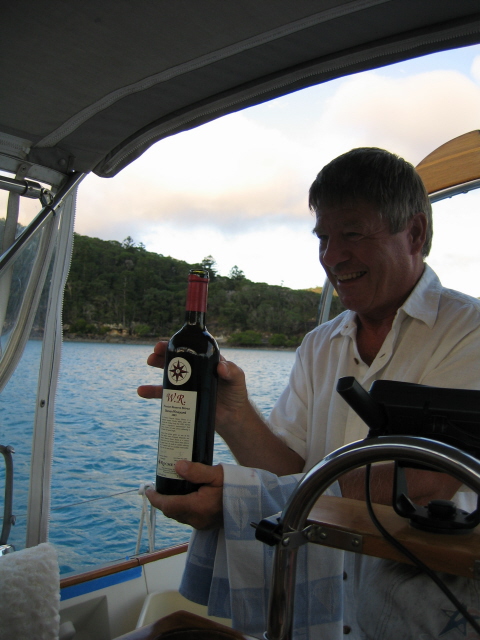 John presenting a bottle of fine Australian wine
He also served us our wine, a special bottle we had picked up when we traveled through the Hunter Valley vineyards earlier in March. In this picture, he had just examined the bottle and said, "Good choice!", like he'd seen it before!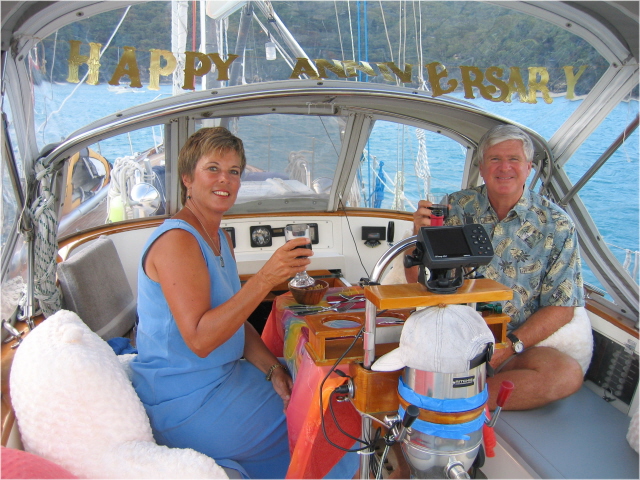 The happy couple
The evening started out well and we really enjoyed John's technique in getting everything over to the boat. It turned out the wind started blowing in the 20-25 knot range pretty early in the evening. So, it was no easy task for him to load things into the dinghy and then motor over to us about 150 feet away.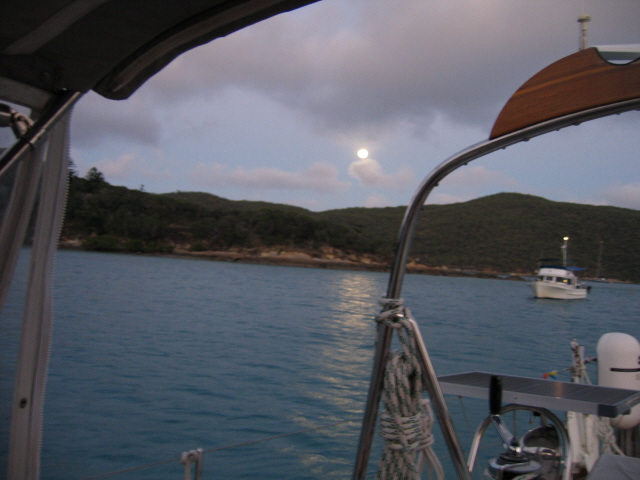 A full moon rising at Hook Island
Just to add a bit more romance to the evening, a full moon rose over the hills of Hook Island just as the sun was setting. This and candlelight was all we really needed to see that evening.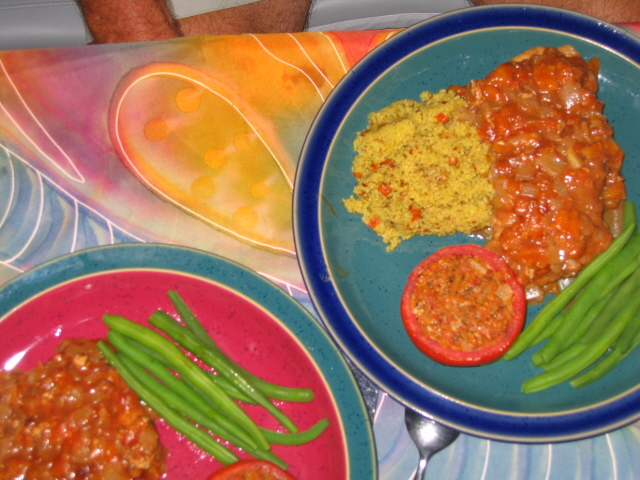 A gourmet dinner
Ariana had prepared wonderful appetizers and salad... and then came dinner. This was apricot chicken over a bed of cous cous with stuffed tomato and fresh green beans. It was delicious.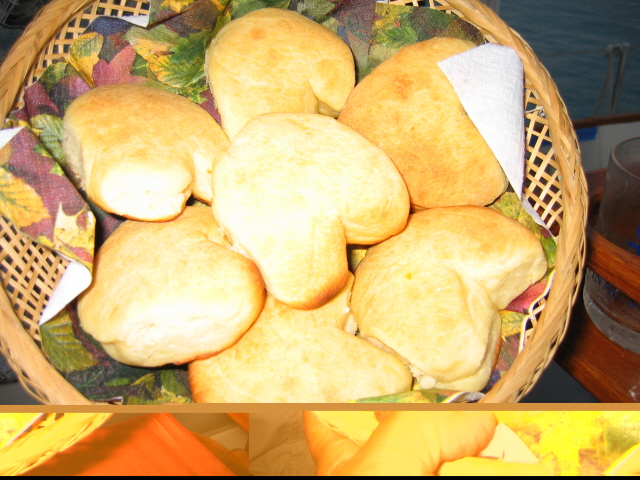 Heart shaped biscuits
One added touch were the heart shaped biscuits Arie made. After dinner, both John & Arie joined us in our cockpit for desert. It was our opportunity to thank them for giving us a very special and memorable evening. This was our 38th anniversary and it will be a hard one to beat.
To go on to the last section, "Birthday Bash at Hamilton Island", click here.
Please click here to return to the home page.