Sailing to the Whitsunday Islands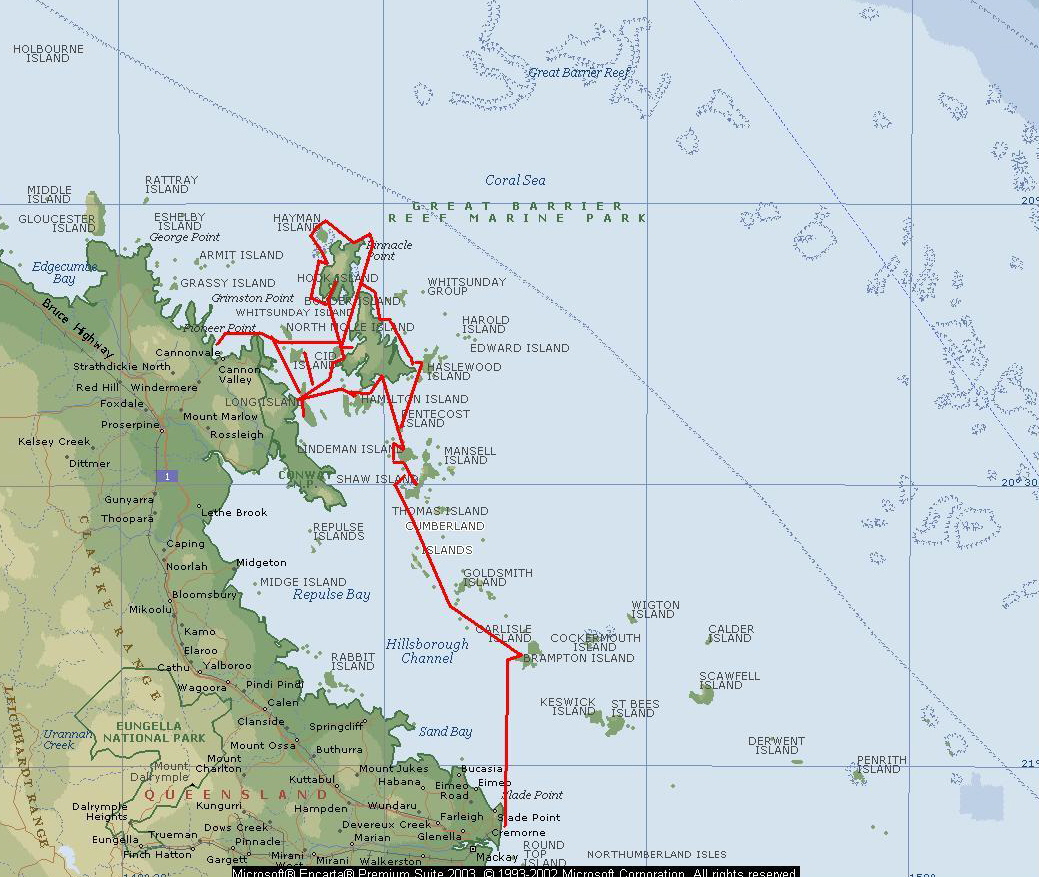 The Whitsunday & Cumberland Island Groups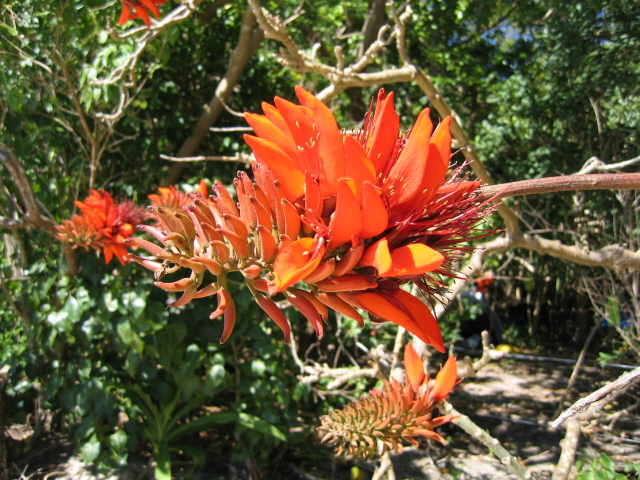 One of many tropical flowers in the islands
After provisioning and taking on fuel, we departed Mackay bound for Brampton Island. This island is technically a part of the Cumberland Island group, but, over time, its thought of as the start of the Whitsunday Islands. It was a short three hour sail and we arrived just in time for lunch.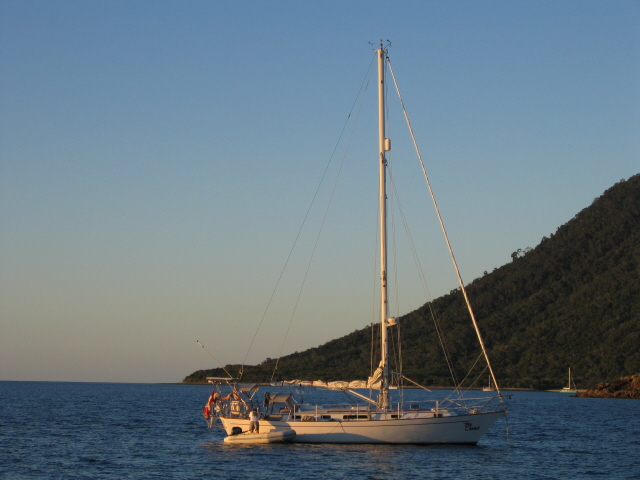 John, of By Chance, getting started in the morning
Each morning, John had a little routine. He would get up and meticulously dry the dew off his teak rails. It became such a ritual that we started feeling bad our teak wasn't getting cleaned off as well. So, before long, we, too, would get up and dry everything off our teak. Then, John started drying the stainless rails and stanchions. So, we did it too. The first hour of every morning before breakfast was taken up with these new duties. After awhile, we began to notice that even some of the Aussie cruisers were doing the same thing. Is this what the herd mentality is all about? The good news was we all had very clean boats while we were at anchor. And that's good!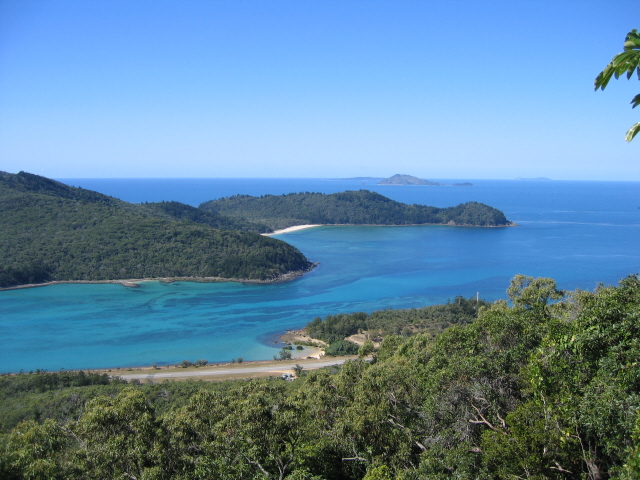 Looking towards Carlisle Island from Brampton Island
There's a nice resort on Brampton that isn't open to the public. But, we were able to hike around it and look across the resort's small airport runway to Carlisle Island where we had a picnic lunch on a beautiful white sand beach. The strait between the two islands isn't navigable for larger cruising boats. At low tide, there's even a place where you can walk across from one island to the other.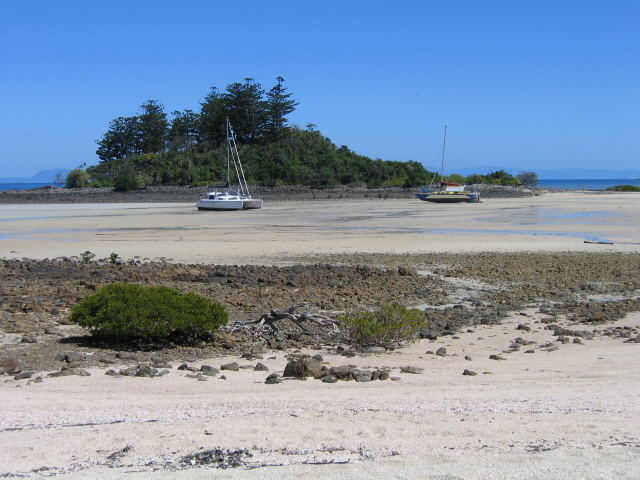 Cats aground at low tide at Brampton Island
There's a nice walking trail about 12km long around the island. At the first bay we came to we saw two catamarans high and dry. The tides in this area are 12-18 feet and its no problem to bring a cat in to a bay and do some work on the hull when the tide goes out. Six hours after these photos were taken, these two cats were once again floating. That evening, at cocktail hour, we were entertained by a low level fly by of an Australian Air Force F-111 jet. That was quite a sight. Unfortunately, we couldn't get to the camera fast enough!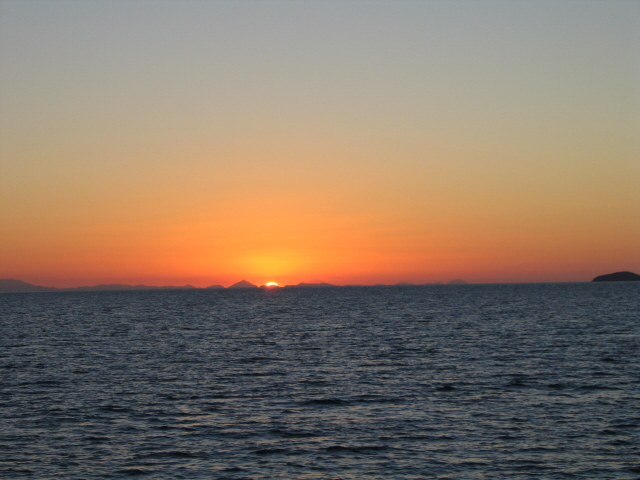 Sunset from Brampton anchorage
The sunsets from our spot at Brampton where beautiful. In the distance, you could see peaks on the mainland that were silhouetted by the setting sun. It gave the feeling of what it must have been like many years ago when Cook sailed by this same spot. We found Brampton to be a very comfortable place and we spent three days here before leaving for Goldsmith Island, the next major stop on the way north.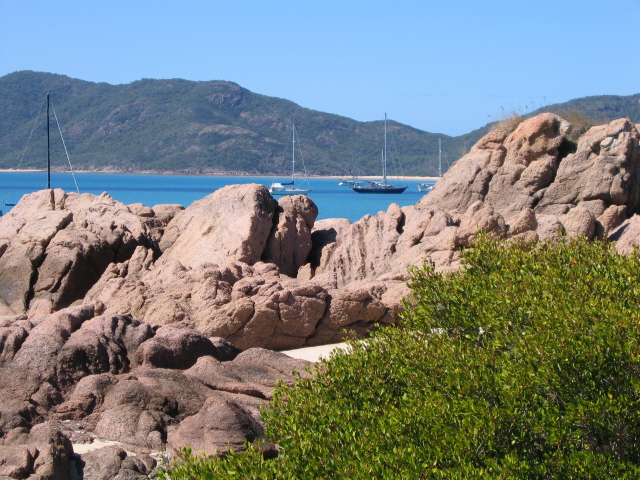 Final Straw at Shaw Island
After a few days at Goldsmith Island, we left for Shaw Island. This was a rugged, uninhabited place, but, very protected. Shaw is across a small bay from Lindeman Island. We anchored at the south end of the island in a bay that was a bit gusty, but, flat and smooth and quite comfortable.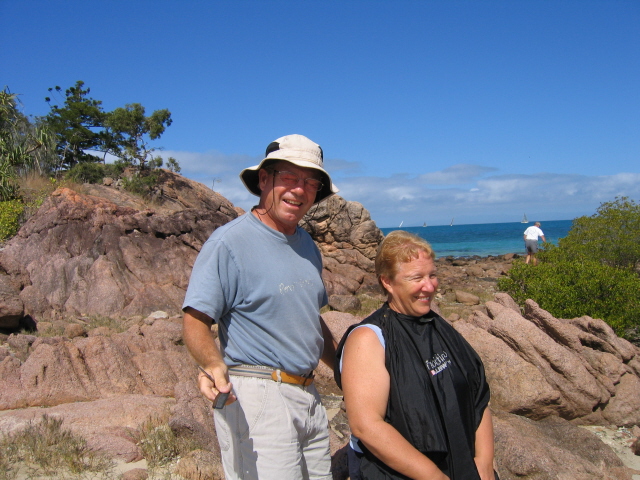 Haircut on Shaw Island
John of By Chance gave Ariana a haircut here... and got into a bit of trouble when it turned out to be just a little bit shorter than originally planned. It turned out this spot was a great place to watch the boats racing in Hamilton Island Race Week. You can see a few of the competitors in the distance.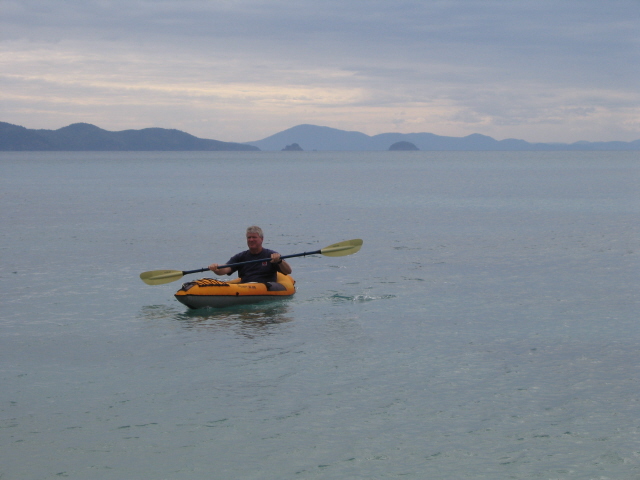 Clark kayaking around Shaw Island
We stayed at Shaw Island for three days. We even launched the inflatable kayaks for a little exploring when the tide was out. The water was very clear and it was pretty easy to spot the many rays and turtles living in this area.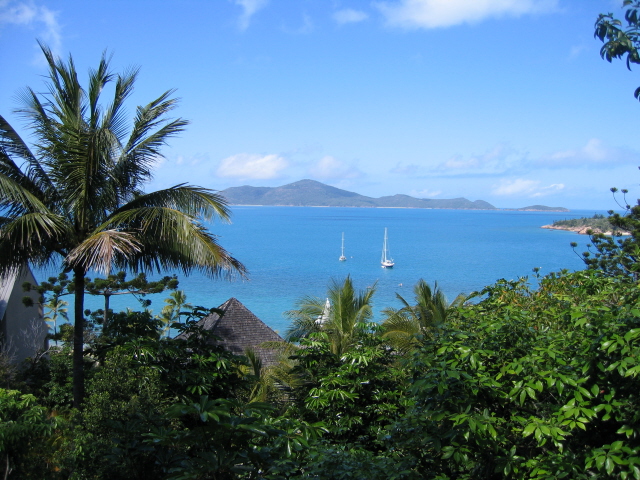 Final Straw & By Chance moored at Club Med
On August 21st, we sailed the short distance to Lindeman Island and moored in front of the Club Med. They offered a special rate for yachties to use their moorings, enjoy the facilities and join them for dinner and the evening entertainment. It was a pretty spot. We took a nice hiking trail to the opposite side of the island to a place called Plantation Bay. Shaw Island is in the background on the photo above.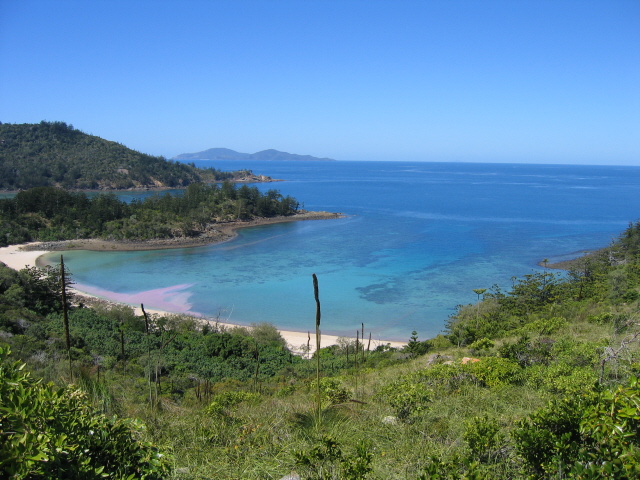 The walk to Plantation Bay on Lindeman Island
After spending the night at the Club Med moorings, we moved around to the north side of Lindeman to a place called Boat Port. It was the small port established when the resort was built. It was much more secluded here and it still offered access to the hiking trails around the island. We stayed here a couple of nights and took some nice hikes.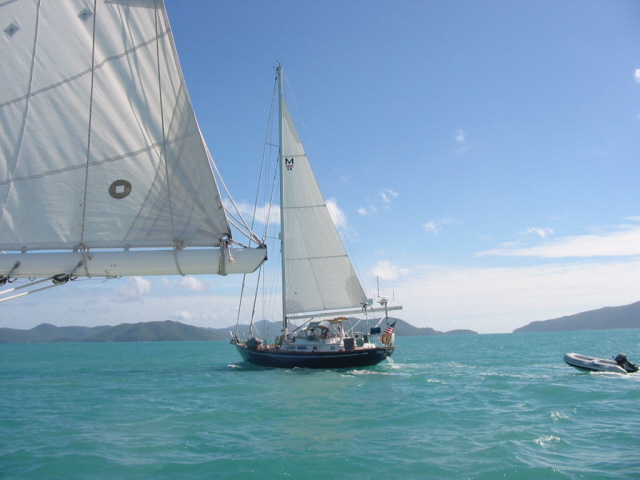 Motorsailing in calm winds to the Whitsundays
From Lindeman Island, we motorsailed down the Whitsunday Passage past Pentecost Island to the cruising grounds of the Whitsunday Islands. The passage was named by none other than the famous explorer, Captain James Cook, when he sailed these waters. He wrote in his log, "Everywhere there are good anchorages...indeed, the whole passage is one safe harbour." This was on June 4, 1770 which just happened to be Whit Sunday, the 50th day following Easter Sunday. He chose this name for the passage and the adjacent island group took on the same name. In recent times, the Whitsunday Island tag has been increased to include all the islands stretching from just north of Mackay to just north of Airlie Beach, the so called "100 magic miles".
To go on to "Cruising the Whitsunday Islands", click here.
Please click here to return to the home page.