Cruising the Whitsunday Islands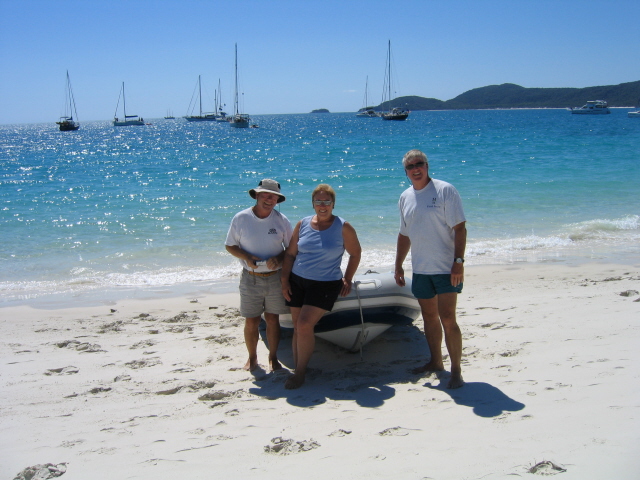 John, Ariana and Clark at Whitehaven Beach
Our first stop in the Whitsunday Island Group was Whitehaven Beach on the north side of Whitsunday Island. This island is renowned for its fine white sand beaches. The grains of sand are so small and smooth that they squeak when you walk on them. We arrived on August 23rd, 2006 which was a lay day for the Hamilton Island Race Week. We arrived early and soon realized there were literally hundreds of boats following us. Little did we know that Whitehaven Beach was the designated site for the really "big" lay day party. We were soon in the midst of a cast of thousands!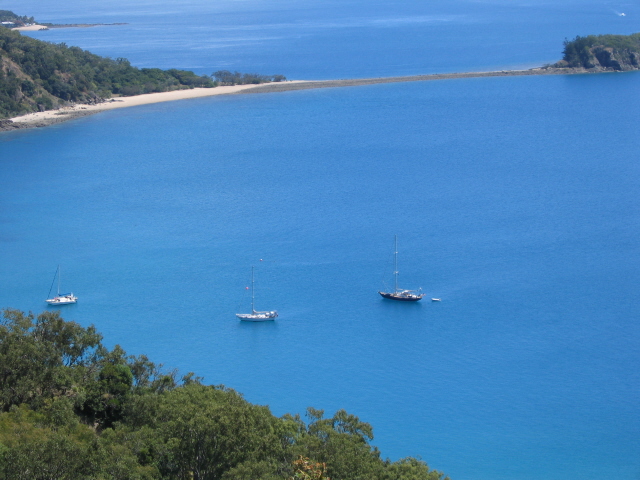 Final Straw anchored at South Molle Island
We spent the next 40 days sailing around the Whitsunday Island Group. South Molle Island was one of many spots we visited. There was a rustic resort and backpacker's hostel here. It was a nice, protected anchorage and we enjoyed hiking the trails. There were superb views of the surrounding islands.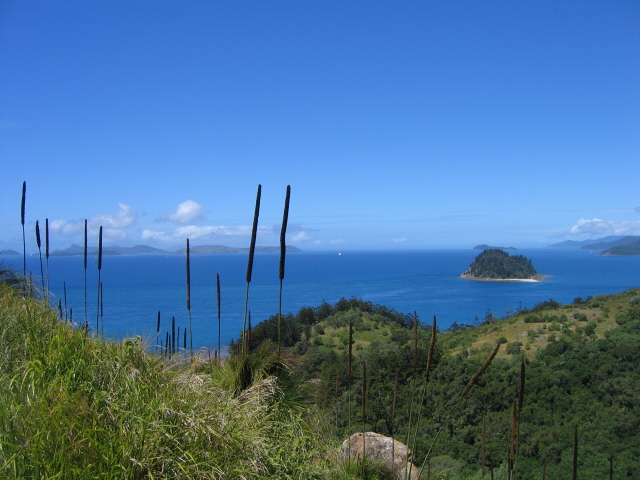 Looking down Whitsunday Passage
From the trail on South Molle, you could see right down the Whitsunday Passage to Hamilton Island and Long Island. On the trail, we saw wallabies and cockatoos and heard the distinctive call of kookaburras. Although the locals told us this was one of the windiest seasons they had seen, we also had many sunny, warm days with light winds.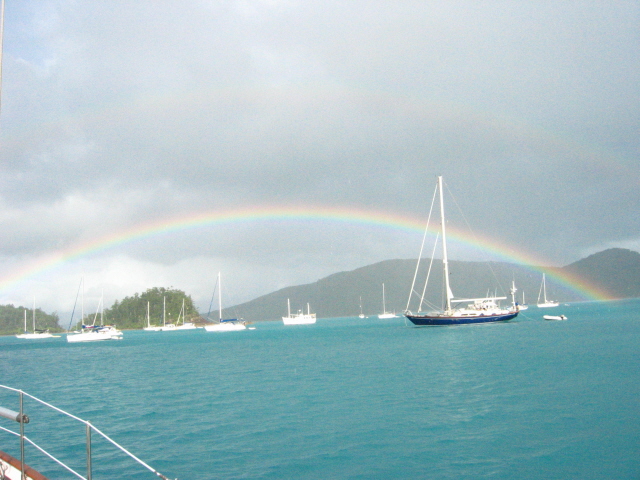 Rainbow over Final Straw at Cid Harbour
When the weather did turn nasty, we would head for protected places like Cid Harbour off of Whitsunday Island or Refuge Bay at Nara Inlet on Hook Island. The picture above shows Final Straw under a rainbow while we waited for a front to pass. During one of these periods, Suzy worked on and completed a 1000 piece puzzle.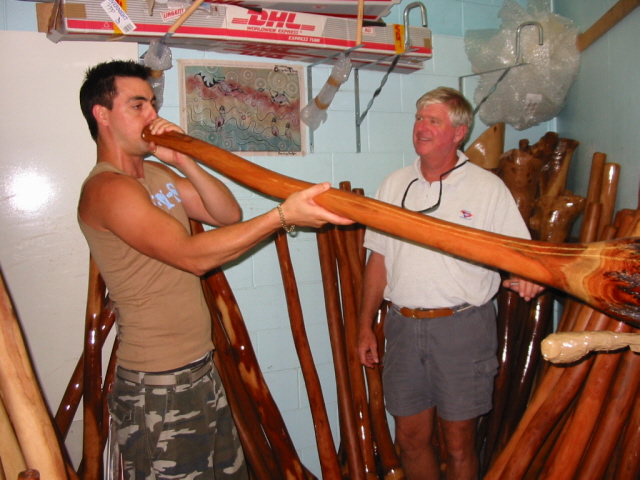 Checking out Digeridoos
Just before the start of one high wind blow, we decided to sail over to the mainland and visit the gateway to the Whitsundays, the town of Airlie Beach. We were able to get in to the marina there and provision, do some shopping and have a few nice meals in the local restaurants. One stop we made was at an opal store that also had a pretty impressive inventory of digeridoos. A local Aboriginal artist will paint a story of one's trip on the digeridoo. So, we checked them out and bought one made of a particularly interesting piece of eucalyptis. In the photo above, the store owner showed us how the one we picked out sounded.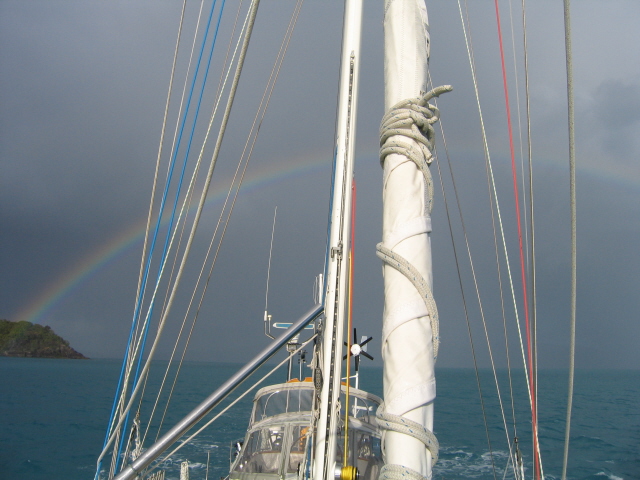 Sailing back to the Islands with a squall behind us
After a few days on the mainland, we headed back to the islands. Every few days we'd have a repeat of the rainy periods. So, we'd move from place to place in between the squalls. The photo above was taken just after we had the sails down and were motoring to a spot where we could anchor. A little squall passed just behind us as we arrived.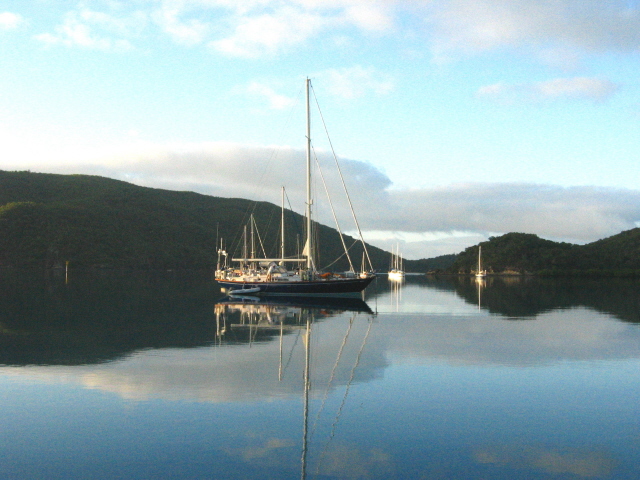 From squalls to perfect calm weather
It doesn't get much calmer than this photo shows. It was taken one morning at Cid Harbour by John on By Chance. This was the start of a gorgeous day. At one time over 100 boats were anchored in this protected spot. But, as the weather cleared out, so did the boats!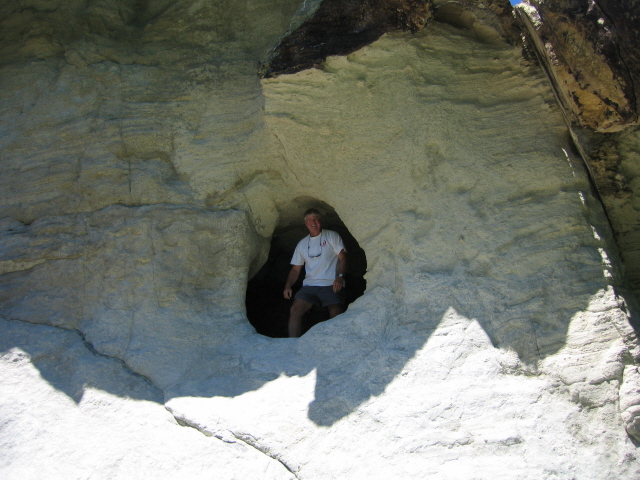 Clark at Hole in the Wall
One spot we really enjoyed was Refuge Bay at Hook Island. It was also a sheltered spot with great protection from all directions. It had interesting rock formations like the one pictured above. You could climb up the side of the wall into a small cave with a nice view of the bay below. Aboriginals lived in this area for many years before the first Europeans arrived. In fact, one cave not far from where this picture was taken had old Aboriginal cave drawings on the wall which have been preserved by the Parks department.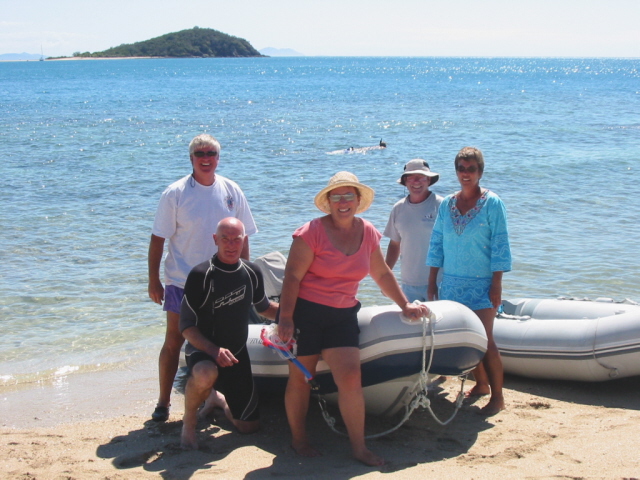 A stop at Black's Reef
On September 21st, we sailed north to Hayman Island. On the way, we made a stop at Black's Reef, a small little island between Hayman and Hook Island. In the photo above, from left to right, are Clark, Bob (from North Road), Ariana, John and Suzy. Leslie, Bob's better half, is snorkeling in the background. Bob & Leslie came to the Whitsundays to sail around with John & Ariana for a week and to come to Clark's birthday party on Hamilton Island on September 26th.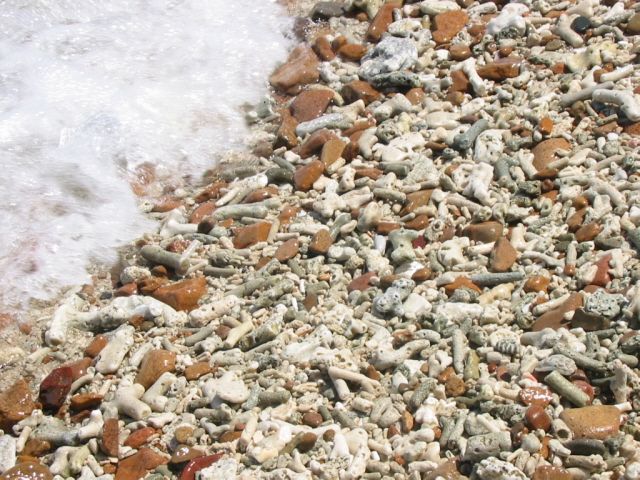 Rocky Beach at Blue Pearl Bay on Hayman Island
From Black's Reef, we sailed around the corner to Blue Pearl Bay on Hayman Island. This is home to one of the most exclusive resorts in all of Australia, Hayman Island Resort. Rooms start at $600 AU ($450 US) per night and range to over $3000 per night! We decided we'd just visit the island at the free anchorage at Blue Pearl Bay on the north west side.
Final Straw on a mooring at Blue Pearl Bay
The island was very pretty. We took the dinghy to a nice snorkeling spot off of a very rocky beach well away from the private resort. It turned out this was also a popular spot for the charter boats out of Airlie Beach and we soon had lots of company. You can see the mainland in the background of the picture above.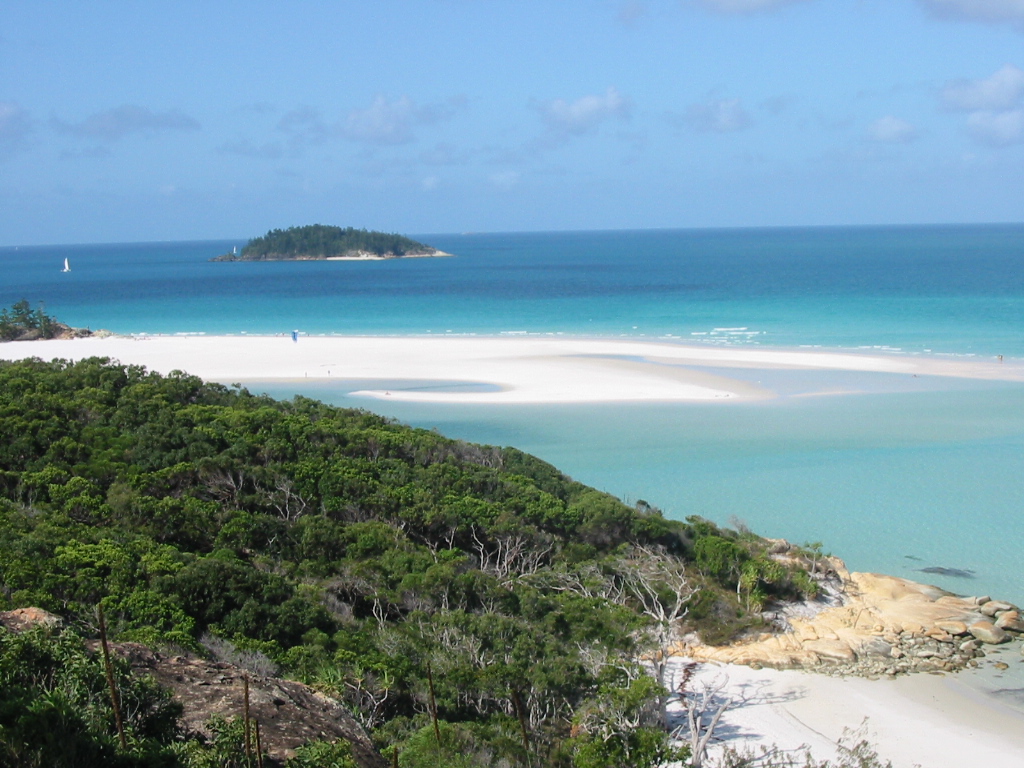 Magnificent Hill Beach at Hill Inlet, Whitsunday Island
We visited far too many spots to show them all. But, we didn't want to stop without showing the incredibly beautiful spot at Hill Inlet. Like Whitehaven Beach, the sand on this beach is very fine, white grains of sand. Its certainly one of the prettiest beaches we have ever seen. We spent the night here towards the end of our stay in the Whitsundays, kind of like saving the best for last!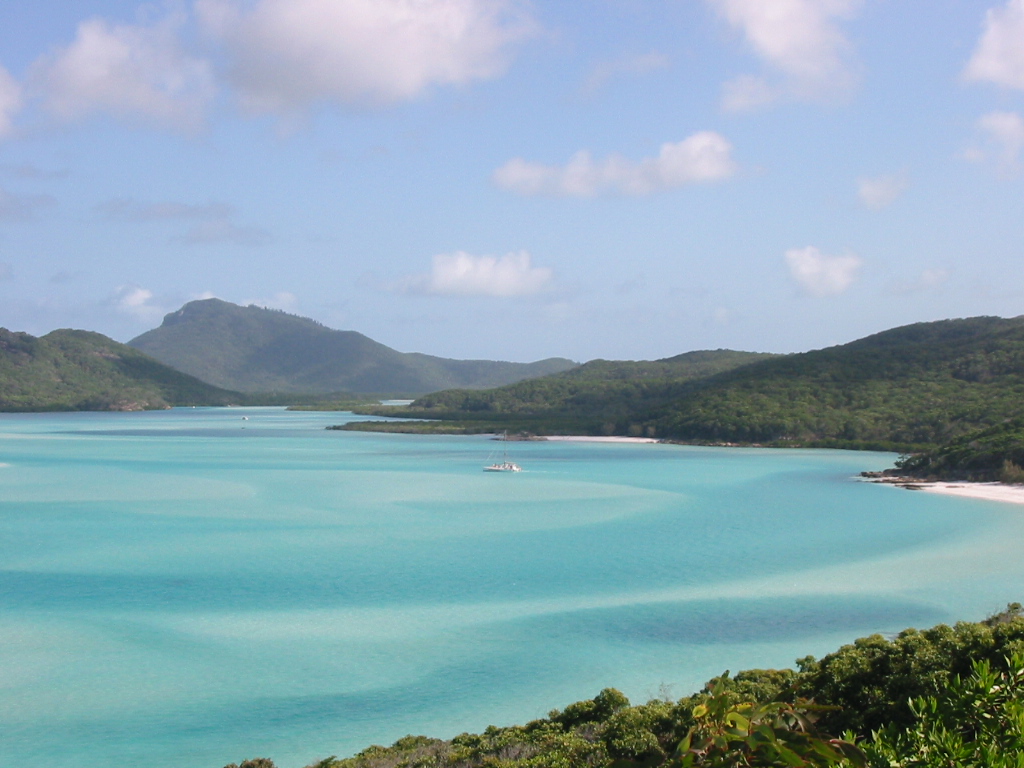 Beautiful Hill Inlet, Whitsunday Island
This is a view looking the other way. Shallow draft vessels, like catamarans, are able to go into this area at high tide. The sand shifts around a lot, so, good visibility is needed to wind your way through. Off to the left of this photo is the start of Whitehaven Beach, which is several miles long!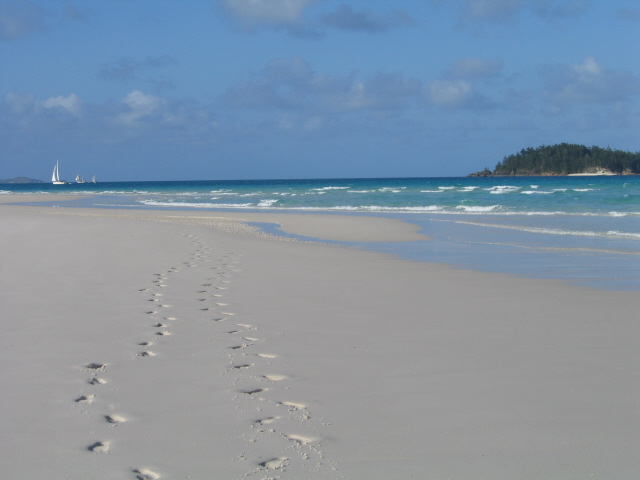 Our footprints in the sand at Hill Inlet Beach
This was one of our favorite spots in the Whitsunday Islands. Appropriately, this was the last place we stayed before heading south to take Final Straw to a safe spot during cyclone season and our return to the States for the 2006 holiday season. We left here with some great memories of a great time in an Australian paradise.
To go on to "A Special Anniversary in the Whitsunday Islands", click here.
Please click here to return to the home page.